Dell Administrator and BIOS Password Reset on Laptop
Forgot administrator password to login Dell Inspiron laptop? Lost BIOS password when you want to enter BIOS settings option on Dell computer?
Now let this passage tell you how to reset Dell laptop admin password and how to remove or clear BIOS password from dell laptop separately.
Question 1: How to Reset Dell Admin Password on Windows 7/8/10 Laptop
When we forgot Dell administrator password, we can consider this issue from different perspectives, in order to find appropriate and effective ways to reset forgotten Dell administrator password in different cases.
Now we could think that whether the dell administrator is the only available one on Dell computer.
If not, just login dell computer with another admin account and change or remove forgotten admin password on Control Panel or with command prompt.
If it is, try to reset Windows password with reset disk firstly.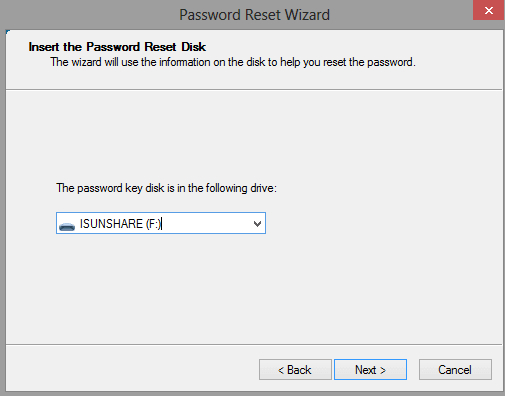 But don't worry if you don't have such reset disk. Dell administrator password reset would become a little difficult but still can be solved.
Reset Windows 7/8/10 Dell Administrator Password without Disk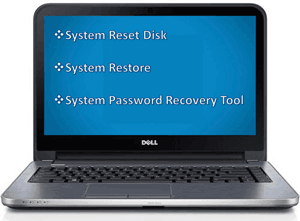 For Windows 8/10 dell laptop , even though you have no reset disk, other sign-in options still can make users logon available. For example, password hint, PIN code, Microsoft account can login locked Dell laptop too if you have set up. Even though all of them couldn't work, you still could try the following three ways to reset Windows password without disk after Windows admin password forgot.
1. System password recovery tool
At first, let's share one easy utility that can reset Windows 10/8/7/Vista/XP and Windows server password effectively on your locked dell laptop.
As one of the easiest and most powerful password recovery tool, Password Genius provides Windows password recovery function. Once you get it, it would not only help you reset Windows forgotten administrator password, but also recover Office document and archives etc password in few seconds. But if you only want to reset dell laptop forgotten password, Windows Password Genius Advanced is OK.
1-1 Download and install iSunshare Password Genius Advanced on another accessible PC or laptop.
1-2 Run it and choose what you want to do "Remove Windows administrator and user passwords" and select Windows password recovery program.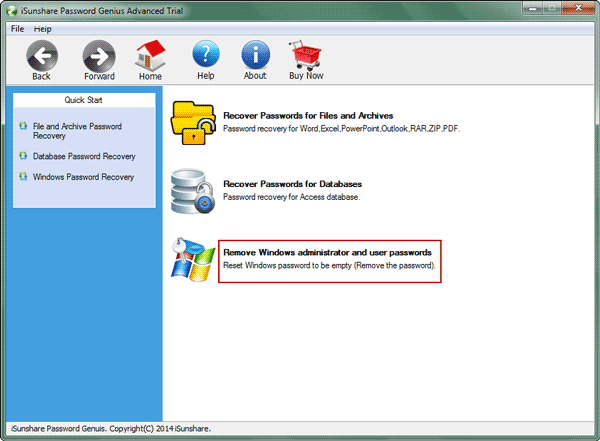 1-3 Insert bootable USB drive into computer and choose it to create password reset disk by clicking Begin burning button.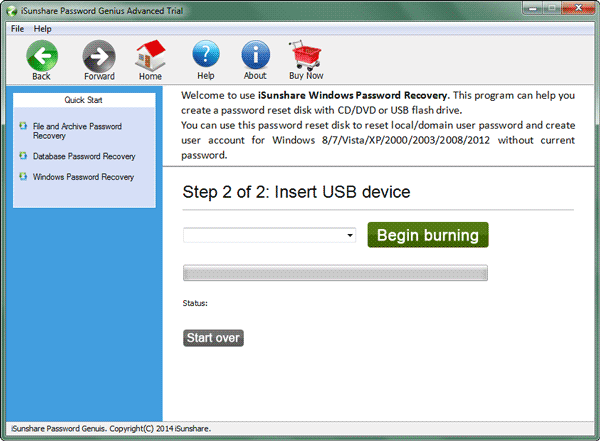 When it completes burning a reset disk, exit and plug it into locked Dell computer to set computer boot from USB drive. After you see Windows Password Genius runs, select Windows system and admin account. And then click Reset Password button to remove Windows admin password.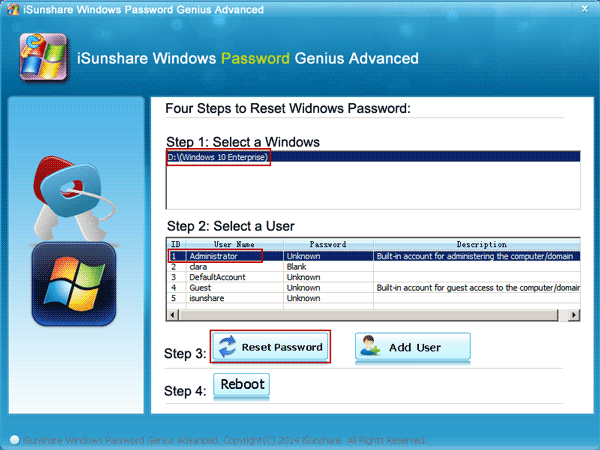 Surely, if you want to resolve dell laptop admin password reset issue free, you can try following two methods, that seems more difficult than Windows Password Genius.
2. System Installation Disc
If you have forgotten Windows password, there are several utilities to reset it. One of them is Windows system installation disc. As a side note, this disc which would take about ten minutes to do, is a security hole in Windows 10 and earlier systems, which can prevent an attacker from hacking into computer with encryption. But we can use it to reset Windows password when locked out of laptop.
With it, you would not need anything else. Basically, you have to boot the locked dell laptop from the system installation disk and open up the Command Prompt. And then replace the Ease of Access Center application (utilman.exe) with another copy of the command prompt(cmd.exe). At last, you can use the "net user" command to set new password for locked administrator.
Command to replace utilman.exe with cmd.exe:
move d:\windows\system32\utilman.exe d:\
copy d:\windows\system32\cmd.exe d:\windows\system32\utilman.exe
Command to reset dell laptop admin password: net user <user name> <user new password>
Refer to: Reset Windows 10 laptop password with installation CD
3. System Restore
Example: Use System Restore as Recovery Tool in Windows 8
When alteration leads to your system act strangely, you can undo that by performing a system restore operation. Similarly, you can restore system to early back up point in order to remove admin password. If Windows cannot start, you can use the Recovery Drive to launch System Restore. When Windows does start, you can launch System Restore from within Windows.
To do so, just access the System Protection tab and click the System Restore button. In a moment, System Restore will begin an initialization process and you'll then see the introductory screen in the wizard driven interface. After System Restore starts, you'll see the first screen in the wizard driven interface. Click Next, and the most recent restore points will show. If you select the Show more restore points check box, you will see any older restore points that are still available. Select the restore point and restore system to that moment.
Compared to system restore, I will prefer to Windows password recovery tool or system installation disc, because I can make sure Windows administrator password can be reset for locked dell laptop, and they seems easier to do for computer newbie.
Question 2: How to Remove BIOS Password on Dell Laptop
Generally, when we want to remove BIOS password on computer to set up BIOS, we just need to shut down computer and move battery from mainboard. But it is just applied to compatible computer. For Dell computer, no matter your computer is taken with RTC or not, there is a PSWD jumper, also called password jumper. Only remove computer battery or clear RTC couldn't relieve dell BIOS password sometimes.
So now let's see how to clear BIOS password on Dell computer.
First we have to make sure that PSWD has two or three needles. For different needle PSWD, the way to clear BIOS password is different.
One: When PSWD is Two Needle
<1> Find out PSWD, and remove power line until main board led turn off.
<2> Remove jumper cap on PSWD, start Dell computer and you will hear the sound of drop. And BIOS password is removed or cleared.
<3> Shut down Dell computer and take back jumper cap to PSWD
<4> Restart computer, and you don't need to enter BIOS password when you want to access BIOS setting screen.
Two: When PSWD is Three Needle
<1> Find PSWD, and remove power line until main board led turn off.
<2> Move jumper cap of PSWD from 1-2 needle to 2-3 needle, and start computer. You will hear sound of drop.
<3> Shut down computer and retrieve jumper cap of PSWD to 1-2 needle.
<4> Restart computer. Everything is OK.
So far, Dell admin password and bios password reset has been successful. You can do anything on dell computer software and hardware from then on.
Related Articles: