How to Setup and Delete E-mail Account in Outlook 2010
Microsoft Office Outlook 2010 could manage different kinds of e-mail accounts together conveniently. Every e-mail account in Outlook could have its PST file, which includes emails, contacts, task and schedule etc. Therefore, add all your e-mail accounts to Outlook and manage them at the same time would make E-mail account management convenient for you.
So in this passage, we will introduce how to setup and delete e-mail account in Outlook 2010 according to your wish.
Part 1: How to Setup E-mail Account in Outlook 2010
Step 1: Open Outlook 2010, and click File – Information – Add Account, click "Next" on pop-up window.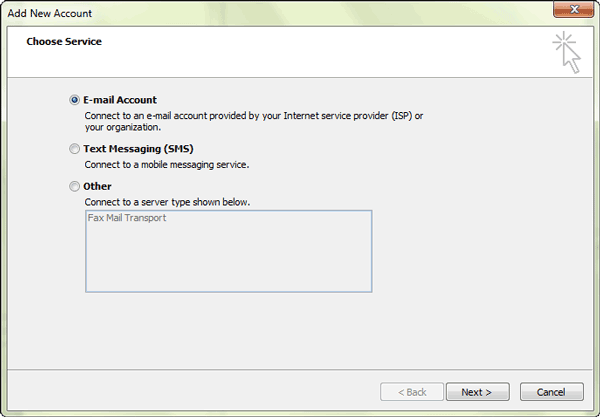 Step 2: Select "Manually configure server settings or additional server types". Click "Next" and select "Internet E-mail".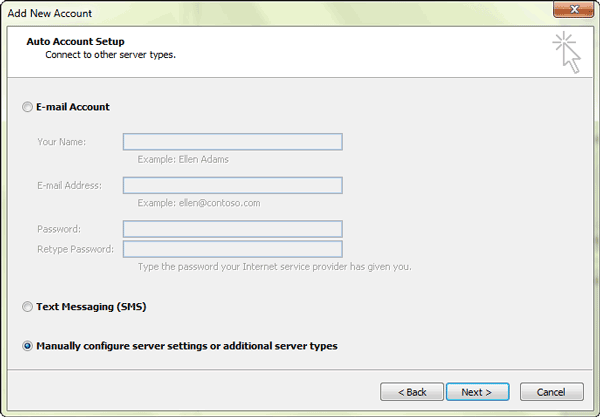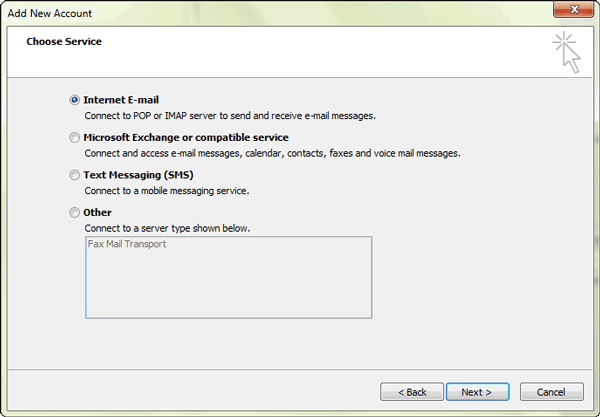 Step 3: Before following settings, login into E-mail on Web first. Click Settings, and tick "POP3/SMTP/IMAP".
Step 4: Turn back to step 2 and click Next, type Your Name, E-mail Address. Set server information, Incoming mail server is POP3, and Outgoing mail server is SMTP. And then click "More Settings".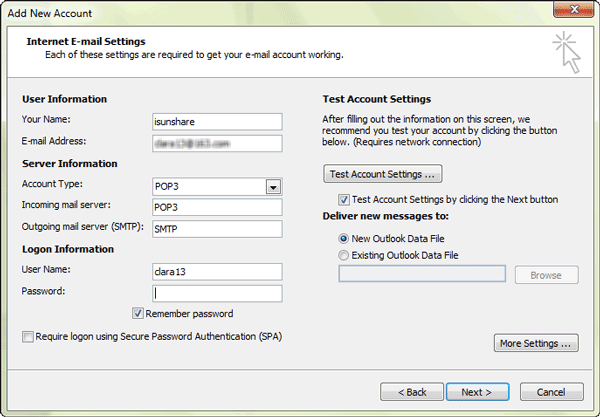 Step 5: In "Internet E-mail Settings" window, click "Outgoing Server", tick "My outgoing server (SMTP) requires authentication". And then click "Advanced", select "Leave a copy of messages on the server". Otherwise, messages would not be saved on Web and server, just saved on local computer.
Step 6: Click "OK". And click Next to Test Account Settings.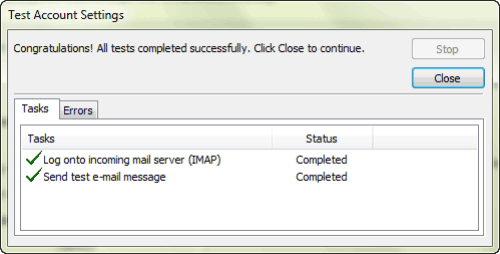 Step 7: Successfully setup account in Outlook. Click "Finish".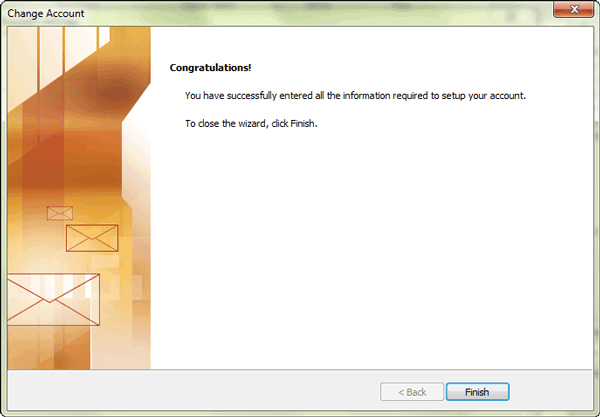 After all the email account setup settings in Outlook, we could make settings about Send/Receive emails for this email account. Click "Send/Receive" – "Send/Receive All Folders".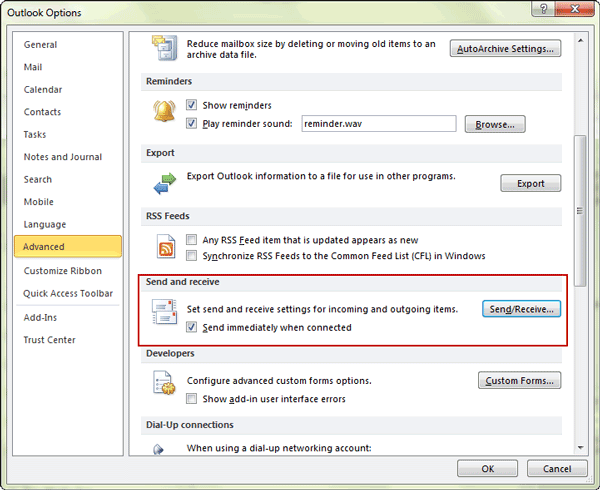 Or turn to File – Options – Advanced – Send and receive. Click "Send/Receive" and a window pops up. Tick "Schedule an automatic send/receive every", set the time, and click "Close".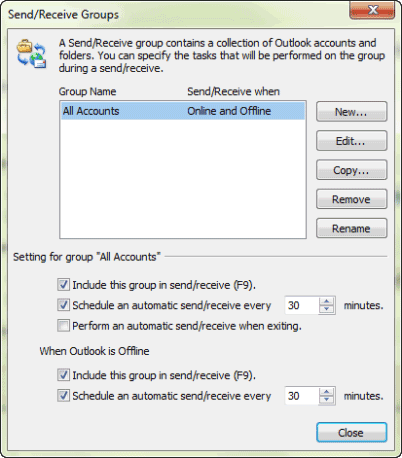 Part 2: How to Delete E-mail Account in Outlook 2010
Method 1: Delete E-mail Account in Outlook 2010
1. Click File – Info – Account Settings, and then select Account Settings.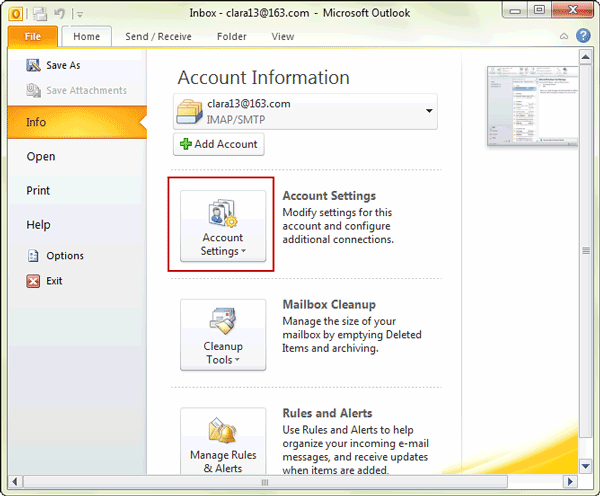 2. Click "E-mail" in new window, select the email account in list, and click "Remove" button. Click "Ok" on pop-up dialog. Instantly, the email account would be deleted.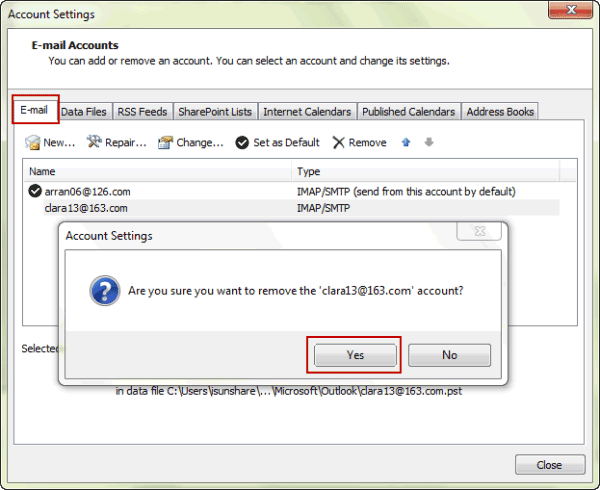 Method 2: Delete Outlook 2010 E-mail Account in Control Panel
1. Exit Microsoft Office Outlook 2010
2. Open Control Panel, and search "outlook" in the top-right search box.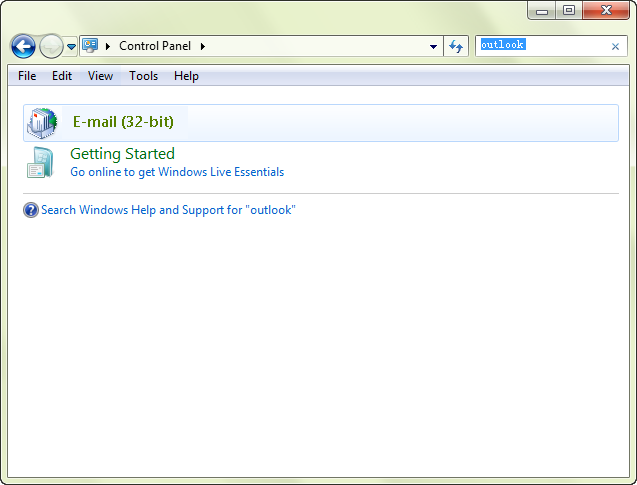 This is the easiest way to find "outlook" in Control Panel. Where "outlook" is related to Windows operational system version, Control Panel view you choose, Outlook version and the system what you use is 32-bit or 64-bit.
Besides search "outlook" in search box, you can view Control Panel in "Small icons", you could see it in options.
3. Click "E-mail" in the search results.
4. Click "E-mail Accounts" in the pop-up dialog.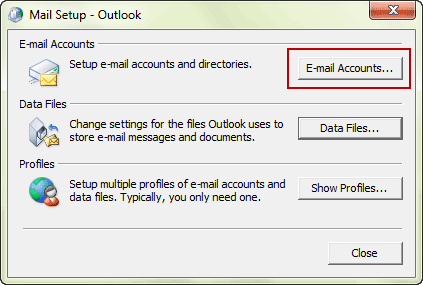 5. In the "Account Settings" window, click "E-mail", and select the e-mail account you want to delete. And then click "Remove".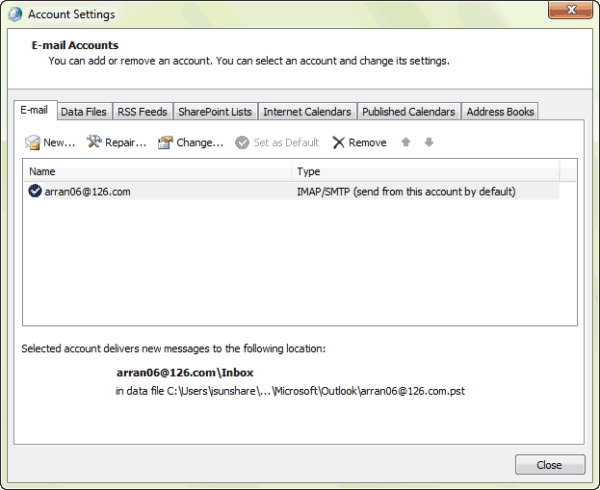 6. If you are sure to delete this e-mail account, click "OK" in pop-up dialog.
Tips:
The projects the e-mail account have sent and received would not be deleted after you delete POP3/IMTP account. So the outlook data files would be still available if the deleted e-mail account is POP3 account. While if it is Exchange account, outlook data files would be saved in E-mail server unless data has been moved to Outlook data files.
So now have you known how to add e-mail account to Outlook, and delete them when you don't need them no longer?
Related Articles:
How to Open Access Database without Access Privileges Two Ways to Create Microsoft Exchange 2010 Account Manually