How to Encrypt Excel File with Password Protection
How to prevent excel file from unwilling opening or editing?
Encrypting your excel file with password would make it done. Here the article will tell you how to do it in two parts.
Part 1: Encrypt Excel Worksheet and Workbook structure
In this part, you would know how to protect excel workbook and worksheet separately with encryption. Excel workbook password could protect workbook from being changed structure, Windows, or removed/added/deleted worksheet. And excel worksheet password could prevent users from inserting, deleting rows or columns in worksheet, or formatting cells.
In Excel 2003:
Click Tools on menu and select Protection > Protect Workbook, then enter a password in pop-up dialog. You would encrypt Excel workbook. If you want to encrypt Excel worksheet, just select "Protect Worksheet" instead of "Protect Workbook", and set a password.
In Excel 2007/2010:
1. Encrypt Workbook:
Click Review on Excel menu and select Protect Workbook in Changes group. Then check Structure and Windows in dialog Protect Structure and Windows. At last, set a password to encrypt Excel workbook structure and Windows. And reenter password to make sure.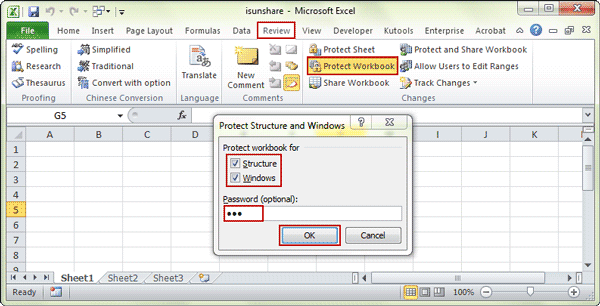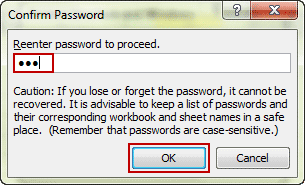 2. Encrypt Worksheet:
Select the worksheet you want to encrypt in Excel Workbook. Click Review menu and select Protect Worksheet in Changes group. Then enter a password under "Password to unprotect sheet" in "Protect Sheet" dialog. And reenter password to confirm excel worksheet encryption.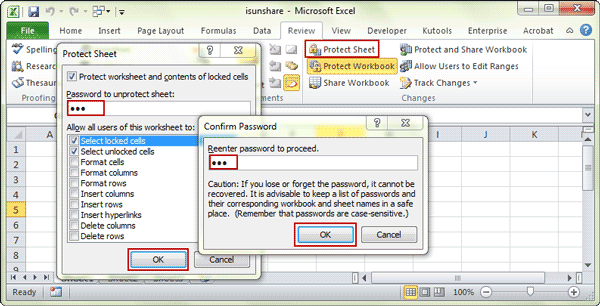 Now you can see you have successfully encrypted Excel workbook and worksheet for protection.

Tips: If you want to remove above protection one day no matter you have forgotten or not, iSunshare Workbook Unprotect Genius could help you as long as your excel file is not protected with open password.
Part 2: Put open and modify password on Excel file
Besides encrypting spreadsheet separately, you could also set password to make entire excel file not be opened or edited. Just while you save as the excel file, you can easily put open and modify password to encrypt excel file.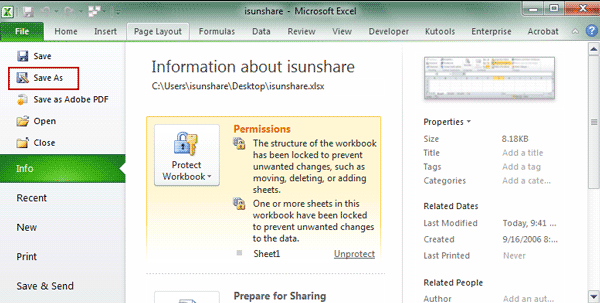 1. On Save as dialog, click "Tools > General Options" next to "Save" button.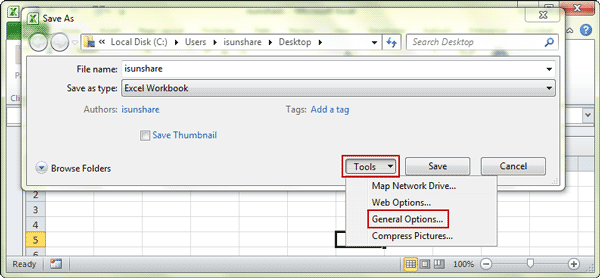 2. In General Options dialog, you can enter password in field of "Password to open" and "Password to modify". Then click OK.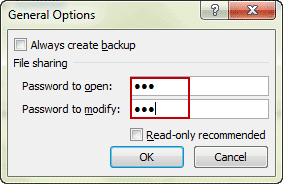 3. Reenter open password in next pop-up dialog and press Enter.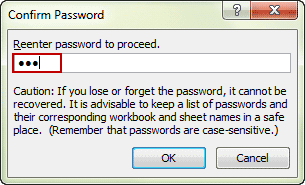 4. Reenter modify password in following dialog box and click OK.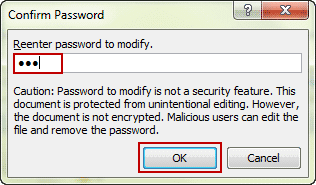 5. Click Save button on Save as dialog at last after you make sure excel file name and "Save as type".

From then on, when you want to open and edit the excel file, you would need to enter both open and edit password.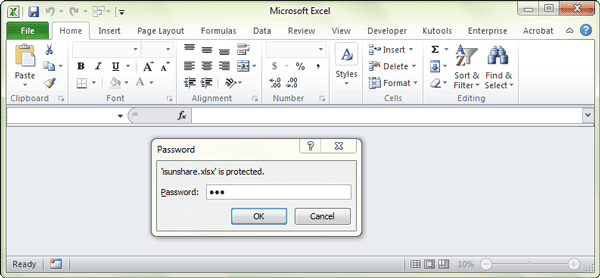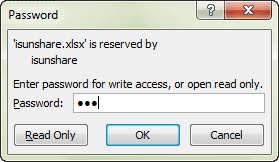 Related Articles: