Ophcrack Cannot Find Password - How to Reset Windows Password
As we can see Ophcrack is one of best Windows password recovery tools for free. But it still couldn't promise resetting Windows password successfully all the time.
When Ophcrack cannot find Windows 7 password, what to do?
If you have password reset disk, believe you have taken it for Windows password reset, because it is the most effective and safest password recovery way. Or if you have other effective password recovery tool, you may have tried it. Now in order to get the most effective password recovery results and protect Windows computer from danger in the best way, introduce password recovery tool, Windows Password Genius, to create password reset disk for Windows password reset.
In addition, compared to Ophcrack, Windows Password Genius could reset password for nearly all of Windows operational systems, including Windows 10/8/7/Vista/XP/2000/NT and Windows server 2016/2012(r2)/2008(r2)/2003/2000. Especially, if it is raid server, Windows Password Genius Raid version could help.
One: Create password reset disk for Windows password reset
1. Find Windows Password Genius and download it on accessible computer.
2. Double click to install it and run it after installation.
3. Prepare bootable USB drive and insert it into this computer.
4. Choose "USB device" on password software and select inserted USB drive from drop-down box.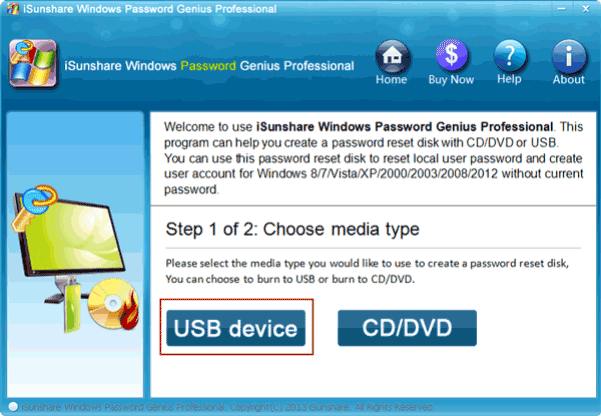 5. Click "Begin burning" to burn Windows password reset disk into USB drive.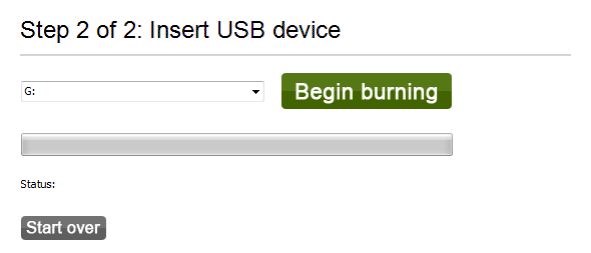 6. When burning successfully, exit USB drive, which is burned with password reset disk.
Now you could take this password reset disk to reset Windows forgotten or lost password.
Tips: Two ways to create Windows password reset disk
Two: Reset Windows Password with Disk
1. Plug the USB drive into computer, and set computer boot from USB.
2. When password recovery program runs, select Windows system and user. Click "Reset Password" button.
Besides, you could add user with admin privileges, so even though other user password is forgotten, new administrator could be used to login Windows.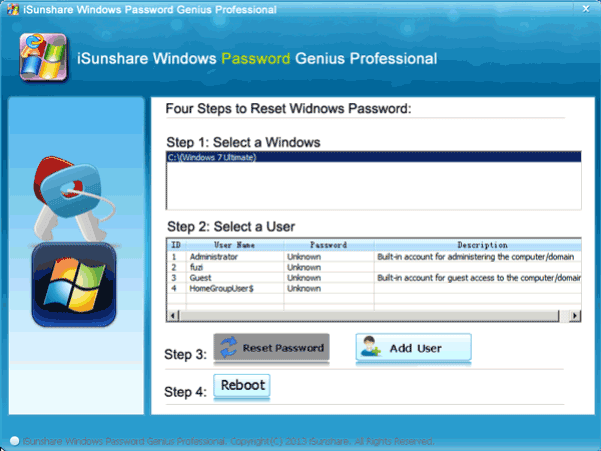 3. Reboot Windows computer and exit USB drive before Windows restarting.
Related Articles: