How to Bypass Laptop Password without Reset Disk
When you forgot Windows 10/8/7/vista password and cannot access data on laptop, probably you could think of password reset disk, the common way to reset forgotten Windows password. But if you have not created it beforehand, how can you easily bypass laptop password with no disk and no data loss? Now this passage would list 3 ways that everyone could use to remove and bypass forgotten laptop password.
3 ways to remove and bypass laptop password without disk
Way 1: Other admin accounts
If there are other admin accounts, just select one of them to login laptop and remove forgotten laptop password with command. Type "net user username *" and press Enter twice in Command Prompt to remove forgotten password from laptop.
Way 2: Reinstall Windows system
Undoubtedly, Windows reinstall could work to remove laptop administrator password but should be your last choice when you really have no password reset disk or other safe ways, because it would lead to important data loss even you successfully bypass laptop forgotten password at last.
Way 3: Laptop password removal tool
Compared to above two ways, this way should be a powerful password removal tool and could remove laptop forgotten password easily and effectively. For example, powerful iSunshare program, Windows Password Genius Advanced could easily remove all forgotten Windows password at once from locked PC/laptop/tablet without data loss.
Get to know iSunshare Windows Password Genius Advanced at first.
1. Fast speed. It is different from other password recovery tools and could directly remove forgotten password from laptop with only one click on locked laptop in about 3-5 minutes.
2. 100% safe. While forgotten laptop password is removed, nothing else is changed on your laptop.
3. Easy to use. iSunshare program has a user-friendly design, and every step you need to do is listed clearly on the interface. Just follow operation wizard on it to easily remove laptop password. No technical knowledge is required.
Now let's see how to bypass laptop password with iSunshare Windows Password Genius Advanced easily in 4 simple steps.
4 simple steps to bypass laptop password with iSunshare program
Step 1: Burn iSunshare program into bootable USB flash drive.
After iSunshare Windows Password Genius Advanced launches on an accessible computer, please insert a writable USB flash drive into computer and select it from drop-down list next to button Begin burning. Then click the button and tap "Yes" to format USB drive and burn only iSunshare Windows password recovery program into formatted USB flash drive.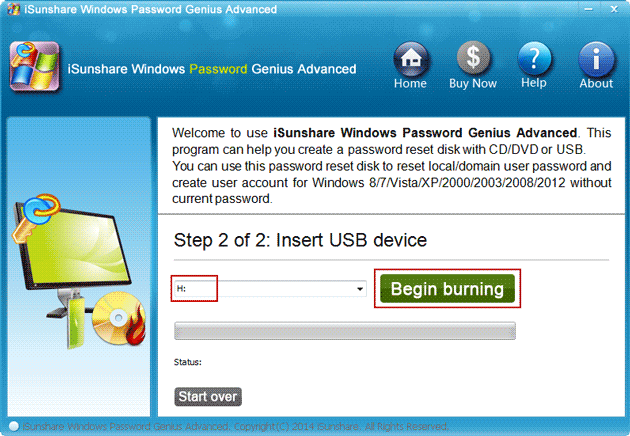 Step 2: Boot locked laptop from USB disk.
When you successfully get a USB boot disk burned with iSunshare Windows password recovery tool, please plug the disk into locked laptop. Set laptop boot from USB flash drive successfully, and iSunshare program would run on this locked laptop and reload laptop system and user related info at the same time.
Something need to pay attention when you boot laptop pre-installed with Windows 8/10 from USB.
1. Boot the laptop and press hot key immediately when starts up to enter BIOS Settings.
2. In Boot option tab, set first boot media to USB HDD. Save changes and reboot the laptop. But if USB is not listed as boot option, you should have to first disable Secure Boot and set BIOS Boot mode to UEFI and Legacy before changing the boot order.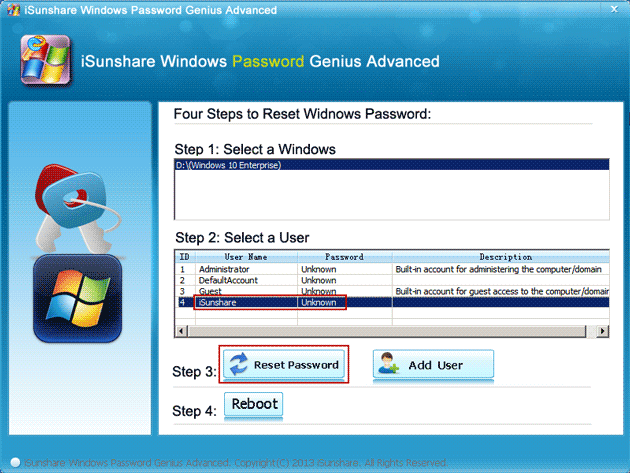 Step 3: Remove laptop forgotten password.
In user list, all users belong to laptop are shown there. And all laptop user passwords could be removed or reset with only one click on "Reset Password" button. For example, select the password-unknown local user and click "Reset Password" button. Then this laptop user password would become blank after you tap on "Yes" button to confirm.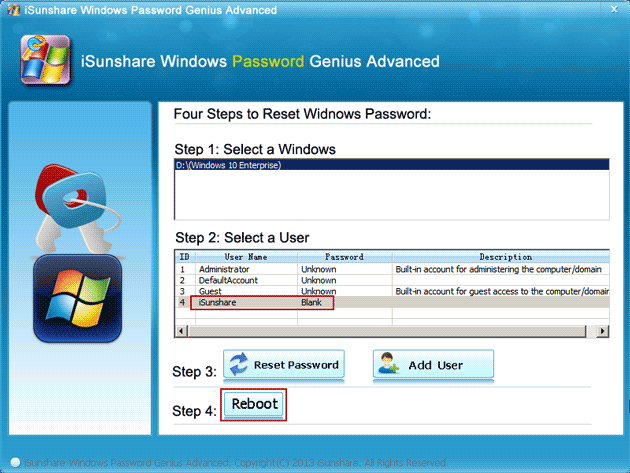 Now if you reboot laptop from hard drive instead of USB boot disk and you could bypass forgotten password to login laptop.
Step 4: Bypass laptop forgotten password to login.
Tap on Reboot button now and remember to exit USB boot disk before laptop logo appears on screen. If you are ready to bypass laptop password to login, on following laptop login screen, just need to select the user you have removed password and sign in laptop with it.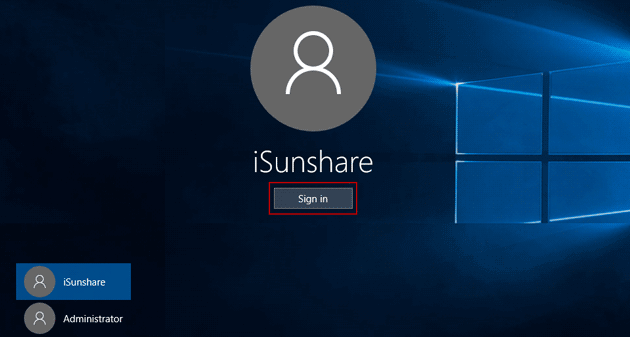 In a word, no matter you forgot Dell/HP/Acer/Asus/Lenovo/Samsung/Toshiba laptop password or unknown laptop password is changed by other people, iSunshare Windows Password Genius would always help to remove forgotten laptop password. So you can bypass laptop password Windows 10/8/7/Vista to login. So simple and effective it is!
Related Topics: