Reset Acer Laptop Windows 10 Password without Losing Data
Forgot password on Acer laptop Windows 10 and have no password reset disk? How to reset password on Acer laptop Windows 10?
As we know, Windows 10 login user and password are saved in registry file in Acer laptop. And windows 10 system reinstallation can remove existing Windows system file, including registry file. So if it is a new Acer laptop you just bought, you could try to reinstall Windows 10 system and Acer laptop password can be reset. But if you have created lots of user accounts on computer and worked with them for a long time, system reinstallation won't recommended. Along with Windows 10 password removal, amounts of system and user files will be lost. It is inefficient to do that and actually there is another way that can reset password on Acer laptop windows 10 without data loss.
Way 1: Reset Acer laptop Windows 10 password with iSunshare tool
Locked out of Acer laptop Windows 10 after password forgot? iSunshare Windows 10 password recovery tool is just dedicated to resetting Windows 10 password for local/Microsoft account and create new administrator account when you cannot sign in PC/laptop/tablet. All of these changes on your Acer laptop only affect the system registry file. So don't need to worry about any data loss on Windows 10 Acer laptop.
Step 1: Burn iSunshare tool as a bootable USB.
1. Find another accessible Windows computer to run iSunshare Windows 10 Password Genius.
2. Get bootable USB flash drive and insert it into the available computer.
3. Choose USB flash drive to burn iSunshare Windows 10 password recovery tool.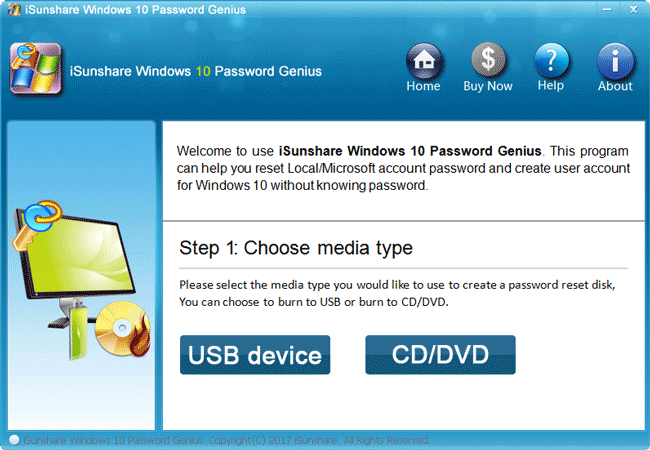 Step 2: Reset Windows 10 forgotten password on Acer laptop.
After connecting the bootable USB to locked Acer laptop, start or restart your Acer laptop from USB flash drive. While Windows 10 Password Genius successfully runs on the locked laptop, begin to reset Acer laptop password.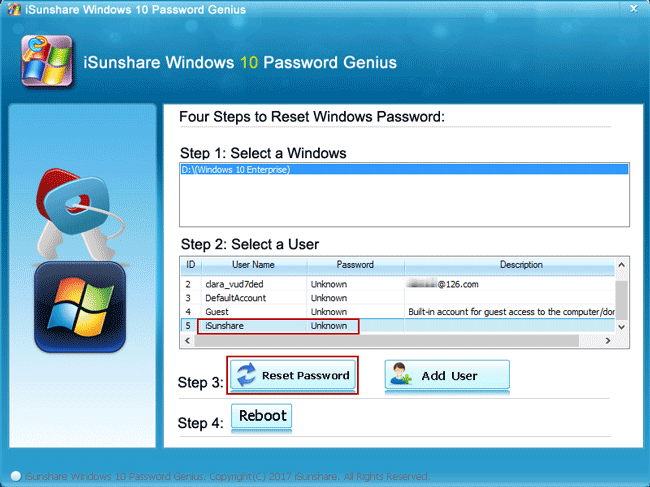 1. Confirm Windows system "Windows 10" installed on your Acer laptop.
2. Scroll down the user list to choose the user account you want to reset password for.
3. Tap on Reset Password button and then Yes button to reset or remove Windows 10 password. To do this one by one, all of Windows 10 user password will be reset, including local account and Microsoft account.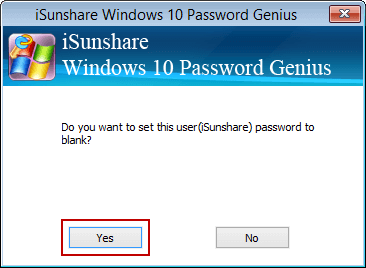 4. Lastly, tap on Reboot button and exit USB instantly to boot Acer laptop normally from hard drive. Choose any user you have reset password, and sign in Acer Windows 10 laptop.
Way 2: Acer laptop Windows 10 password reset with Command Prompt
As is known, Command Prompt can be run as administrator to change Windows 10 password when Acer laptop is accessible. But don't doubt that actually you can also run Command Prompt to reset Windows 10 password on locked Acer laptop. What you need to prepare at first is just Windows 10 installation disc.
Step 1: Prepare Windows 10 installation disc on another computer if you don't have.
Step 2: Boot your locked Acer laptop from Windows 10 installation disc.
Step 3: Press Shift + F10 to open Command Prompt window, and change the location of cmd.exe to replace utilman.exe. Suppose d:\ is the system drive. Then enter these command lines.

Step 4: Remove installation disc from Acer laptop and restart it.
Step 5: Run Command Prompt instead from login screen while choosing "Utility Manager".
Step 6: Reset Windows 10 password on locked Acer laptop with command line "net user username password".
About more details, you can see how to reset Windows 10 local admin password with command prompt. You will find such a installation disc just could reset Windows 10 local account password for Acer laptop. So for your convenience, iSunshare Windows 10 Password Genius is really worth a try.
Related Articles: