Minimum Password Age Setting on Windows 8/8.1
Perhaps, it is the first time you hear about minimum password age, and you may wonder what it is and how you can set it in your PC. FYI, minimum password age refers to the period of time (i.e. a value between 1 and 998 days) that a password must be used before the user can change it. Furthermore, it is set as 0 by default, which indicates the password can be changed immediately. If, at this moment, you are strongly curious about how to set minimum password age on your Windows computer, the detailed steps are illustrated below for your better reference.
Video guide on how to set minimum password age on Windows 8:
Steps to finish minimum password age setting on Windows 8/8.1:
Step 1: Open Local Group Policy Editor.
Step 2: Locate and open the policy named "Minimum password age".
To be specific, it is located in Computer Configuration/Windows Settings/Security Settings/Account Policies/Password Policy, as shown in the following picture.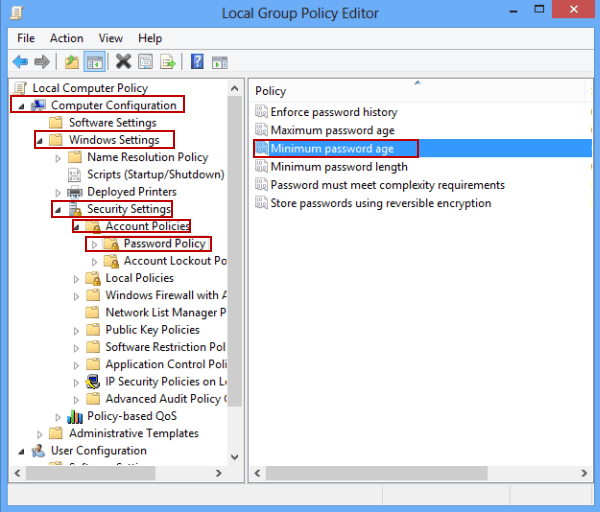 Step 3: Input a value between 1 and 998, and click OK in the policy's Properties window.
For instance, if you disallow the password to be changed in five days, you can enter 5 in the box and then tap OK.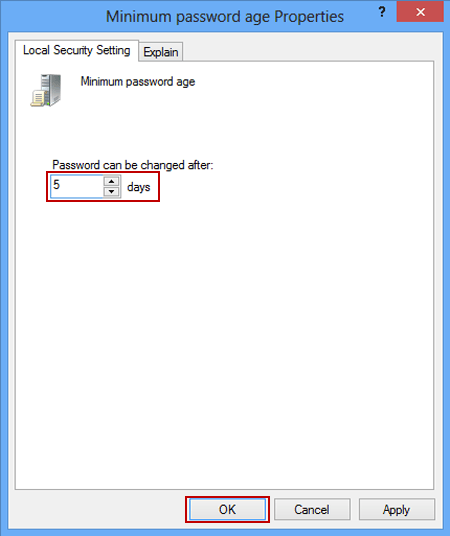 Later, if you go to change the password for user account during the period that the minimum password age was specified, the system will inform that the password you entered doesn't meet password policy requirements. That is to say, the code can only be changed when the minimum password age expires.
Related Articles: