Reset Windows Forgotten Password on Acer Laptop
Acer laptop Windows login password forgot problem usually happens, but not every laptop user could find appropriate way to reset their acer laptop Windows password effectively.
So this passage will recommend some effective methods to solve the problems about how to reset forgotten Windows password on Acer laptop installed with Windows 10/8.1/8/7/Vista/XP.
Solution 1: Reset Windows 10/8.1/8 password on Acer Laptop
Forgot Windows 10/8.1/8 password on Acer laptop, such as Acer Aspire? I will probably recommend you 3rd-party software to reset Acer laptop windows 10/8.1/8 password. Because it works well and quickly when you don't have password reset disk, available administrator or other sign-in options.
And the Windows password reset program, Windows Password Genius Advanced is my favorite. The major steps are software download and installation, burn software into bootable USB drive or CD/DVD-ROM, boot locked Acer laptop from burning device and reset/remove Windows 8/8.1/10 password.
Refer to:
Solution 2: Acer laptop Windows 7 password recovery
About Acer laptop Windows 7 password recovery, here I will tell you how to recover Windows 7 password on Acer laptop with password reset disk created previously. Surely if you have no, you could take Windows 7 Password Genius instead.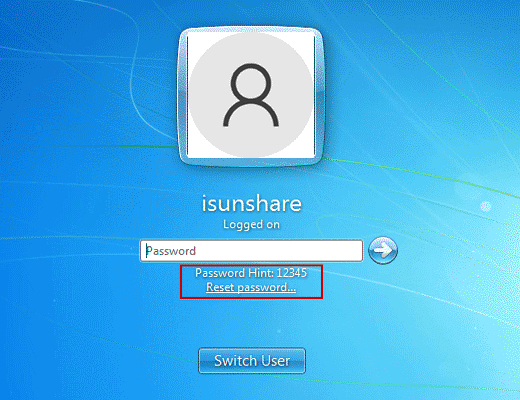 1. After wrong password prompt displays, click OK;
2. Insert the password reset disk into PC driver, click Reset password and the Password Reset Wizard will comes up, then click "Next";
3. Choose the targeted password reset disc from drop down box, and then click "Next";
4. Input and confirm newly set password, then "Next" > "Finish", close Password Reset Wizard.
After that, you can exit disc and sign in Windows 7 with new password. But please note that you have created Windows 7 password reset disk when your laptop can be accessed to. If not, see the article how to reset windows 7 password without reset disk, which would tell you how to burn password reset disk with other ways after locked out of acer laptop.
Solution 3: Acer laptop password reset on Windows Vista
When Acer laptop Windows Vista password forgot, we can download Ophcrack and burn a password reset disk with it, to remove Windows Vista password on Acer laptop. Ophcrack is the third party Windows password recovery software.
If you decide to reset Acer laptop password with Ophcrack on Windows Vista, you can follow the second video guide to do in article forgot windows 7 password and no disk.
Tips: How to Use Ophcrack on Windows 7 Password Reset
Solution 4: Unlock Acer laptop from Safe Mode for Windows XP
For Windows XP/Vista/7/8/10, there is a built-in administrator for users to login computer. But it is not enabled by default. So when forgot Acer laptop Windows XP password, we can bypass forgotten Acer laptop Windows XP password with enabled built-in administrator.
Step 1: Press F8 when powering on Acer laptop.
Step 2: At Advanced Boot Options window, choose Safe Mode and press Enter.
Step 3: Choose and click the Administrator account at the Windows logon screen.
Please note that if you've ever set this administrator password, you need input the password set before. If not, you should keep the "Password" blank.
Step 4: Click Start > Control Panel > User Accounts, select the account needed to reset password and input new password.
So far, the above passage has introduced how to reset Acer laptop password on Windows 10/8/7/Vista/XP in detail with one way by another. At most of time, the ways are common in all Windows operational systems, especially iSunshare Windows Password Genius. So don't be hesitated to try another way for your acer laptop, while you find the way provided for its operational system cannot work.
Related Articles: