How to Recover Login Password for Dell Vostro Laptop
" I've set a password to my Dell Vostro laptop, but I'm afraid of forgetting it one day. Is there any way to recover it if I forgot it? Can anybody help me?" A friend asked such a question. With the purpose of solving the problem, this article recommends 2 effective ways to recover login password for Dell Vostro laptop in the following part.
2 valid methods to reset login password for Dell Vostro laptop:
Method 1: Password reset disk created previously for Dell Vostro laptop
Create a password reset disk in the Control Panel of your laptop beforehand. Regarding the whole process, please refer to the steps below.
1. Enter the Control Panel according to the order of Start > All Programs > Control Panel.
2. Click User Accounts and Family Safety to enter it.
3. Select User Accounts in the next screen.
4. Insert a USB or floppy disk to the laptop, and then choose to Create a password reset disk in the left menu, as the following print shot exhibits.
5. Select the drive you insert to your laptop in the drop-down list by clicking the pull-down arrow and choose Next.
6. Input your current user account password as required, and hit Next to move on.
7. Select the Next option when the process is 100% completed.
8. Click Finish to close the Forgotten Password Wizard window, and a password reset disk is successfully created.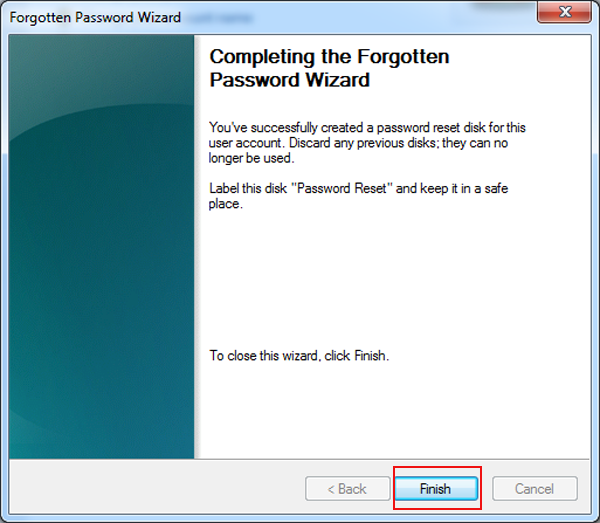 After that, restart Dell laptop and insert the password reset disk you have created for login user. Now just type an incorrect password in Password box and press Enter. A link "Reset password" appears. Click the link and follow Password Reset Wizard to reset Dell laptop login password with inserted password reset disk.
Method 2: Password reset disk created after Dell Vostro laptop locked
While Dell Vostro laptop is locked, please create a password reset disk with specified code recovery software. In order to make this method more clear to you, the application of iSunshare Windows Password Genius is illustrated as follows.
1. Create a USB or CD password reset disk with iSunshare Windows Password Genius on another accessible computer.
2. Plug the password reset disk into locked Dell Vostro laptop and start laptop from reset disk.
3. Reset login user password for Dell Vostro laptop with Windows Password Genius on locked laptop.
About more detailed operations, please see the user guide of Windows Password Genius.
With these two methods, you don't have to worry about forgetting the code to your laptop anymore. Now, all you need to do is creating a password reset disk of your own to your Dell Vostro laptop on the basis of the above-mentioned ways and their procedures.
Related Articles:
How to Reset Password for HP Elitebook Laptop How to Change SATA Controller Mode