MDB/ACCDB Password Recovery after Password Forgot or Lost
When you forgot MDB password, or lost ACCDB password, what do you think for MDB/ACCDB password recovery?
As Access database file, MDB or ACCDB saves important things you created in Microsoft Access. If you cannot recover Access database password for MDB or ACCDB, or find out lost or forgotten password for database, it will be necessary to get MDB or ACCDB password from other people who know or tools that can find.
It would be best if someone who you believe in keeps your MDB or ACCDB database password. Ask them for password and type password in password box when you open access MDB or ACCDB database.
It would be better too if there is MDB password recovery tool that can easily recover MDB or ACCDB password after forgot or lost. The problem is how to look for such a powerful password recovery tool for MDB or ACCDB database. If you have no idea, I think it is worth trying Access Password Genius. It can recover MDB/ACCDB password easily, and you can open encrypted MDB/ACCDB database file, or unlock locked MDB/ACCDB database. See followings to learn how to do if you have any questions or doubts.
Doubt 1: How to get and install Access Password Genius?
You have three ways to get and install Access Password Genius on computer.
1. Search it in Google.
After you type "access password genius" in Google search box, and press Enter, you will get several results related to search words. The first result shows "iSunshare Access Password Genius". Undoubtedly, it is what you want to find. Open it and download trial version to have a try first or directly pay for full version to recover access password successfully no matter how long the password is.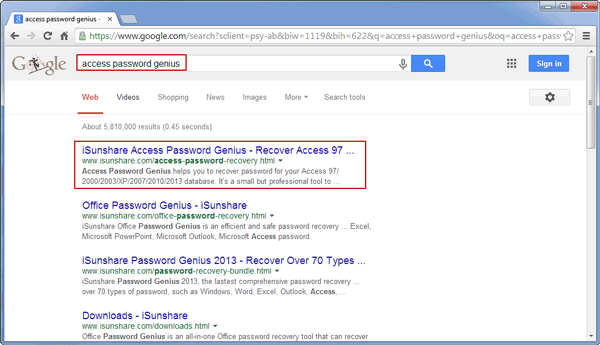 2. Directly open Access Password Genius home page.
Open www.isunshare.com. Move your mouse to "Products" menu and select "Access Password Genius" in product list. You can see its features on open page. "Free Trial" and "Buy Now" are also available now. After get it, double click the EXE file to install it on your computer.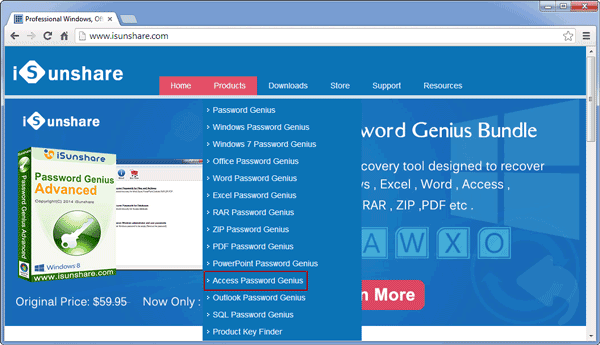 3. Search it on specific software download sites.
You also can get Access Password Genius trial version in software download website, such as "www.software.informer.com", "www.en.softonic.com". After you download it from these websites, you can install and try it to recover MDB/ACCDB password less than 3 characters for free.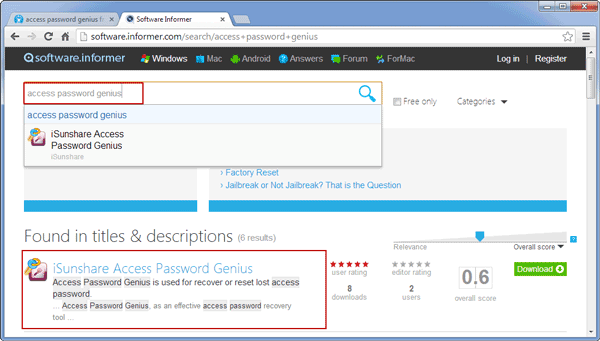 Doubt 2: How can we effectively recover MDB/ACCDB database password with Access Password Genius?
The meaning is that how to make settings on Access Password Genius to recover access database password for MDB/ACCDB with high efficiency.
We should know that there is important and key step during MDB/ACCDB password recovery. That is to choose "Type of attack" and make settings for password attack type.
After importing MDB or ACCDB file into Access Password Genius with "Open" button, click "Type of attack" drop-down list, you would see four password attack types. Each of them has its own features. So in order to make MDB password recovery effectively, it is needed to pay attention to this step. If you don't know how to do, please follow password recovery attack type settings.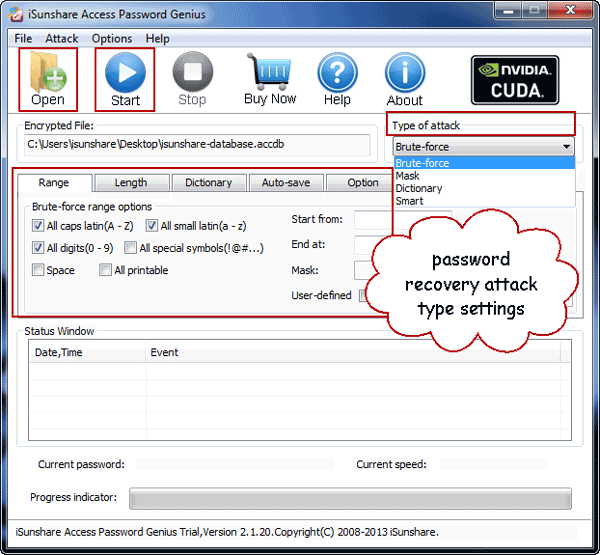 At last, click "Start" button to recover MDB or ACCDB password.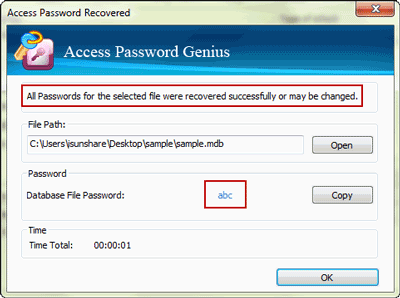 Doubt 3: Is there any data loss or damage after MDB/ACCDB password recovery?
There is no problem after access database password recovery. You don't need to be worried about this. MDB or ACCDB database file is unbroken and keeps complete as it is.
Related Articles:
3 Ways to Create Access 2007-2013 Database How to Open and Edit MDB File without Microsoft Access