Forgot Windows 10 Password to Unlock Samsung Notebook 9
Forgot Windows 10 password on Samsung Notebook 9 and need to log into the laptop instantly?
This really makes people anxious. But it is not impossible to unlock Samsung notebook 9. As long as Windows 10 password can be reset or removed, nothing will trouble you again. However, if you cannot find effective ways to do that, probably you would lose photos, video, music or other important system files on Samsung notebook.
Therefore, an effective and safe method is required. Here I just want to share you with the third-party utility, Windows Password Genius, which can help you to safely remove Windows 10 forgotten password to unlock Samsung laptop. And there is no damage to your notebook. Actually, this utility is intended to reset all Windows system password for all user accounts, as you know it can reset Windows 8/10 Microsoft account password.
Before Samsung notebook password reset, what need to prepare:
Available computer and writable USB drive
Third-party utility, iSunshare Windows Password Genius Advanced.
Step 1: Create USB password reset disk on another computer.
Why we choose writable USB device, but not CD-DVD-ROM?
In fact, you can burn password reset disk into USB drive or CD/DVD-ROM with Windows Password Genius Advanced. But for the purpose of convenience, USB flash drive is common and recommended.
After successfully running Windows Password Genius Advanced on another accessible computer, select the option USB device. Then plug USB flash drive into this computer and choose it from the drop-down list. At last, click Begin burning to format USB flash drive and burn password recovery disk.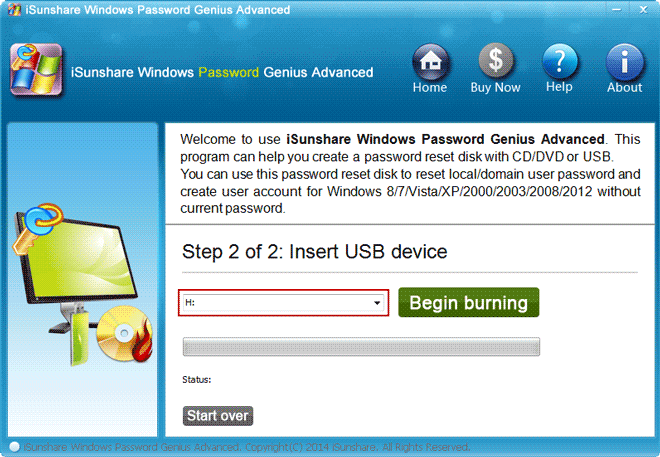 Step 2: Confirm boot option in BIOS and start locked Samsung from USB drive.
Insert USB password recovery disk into locked Samsung notebook 9. And change BIOS settings to boot Samsung notebook from USB drive.
Step 3: Remove Window 10 forgotten password from Samsung notebook 9.
Until Samsung notebook boots from USB drive successfully and Windows Password Genius Advanced automatically, select Samsung login user and click Reset Password button. Tap on "Yes" button to make user password become blank.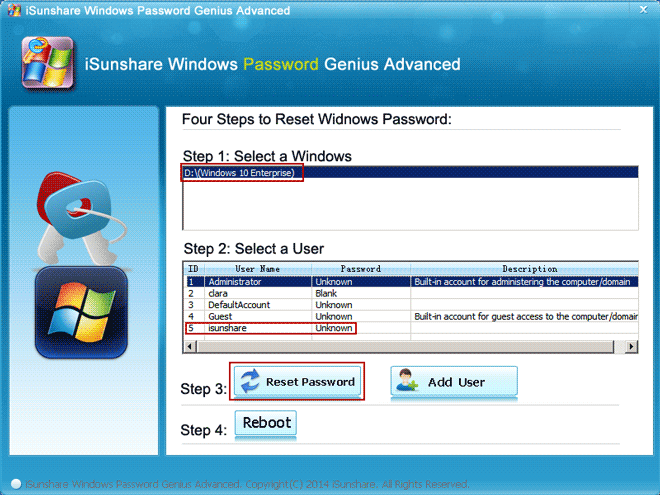 Then click Reboot button to restart locked Samsung notebook and remember to exit USB drive from the laptop in time. Otherwise, your locked laptop will start from USB drive and reload Windows Password Genius Advanced program again.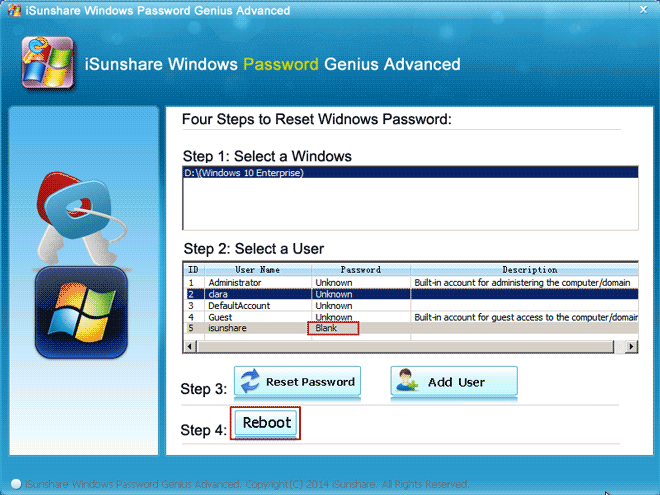 Step 4: Unlock Windows 10 on Samsung notebook 9.
When you successfully see Samsung login screen, select the user you just remove password with Windows Password Genius Advanced and click Sign in button to unlock Samsung notebook 9 without password.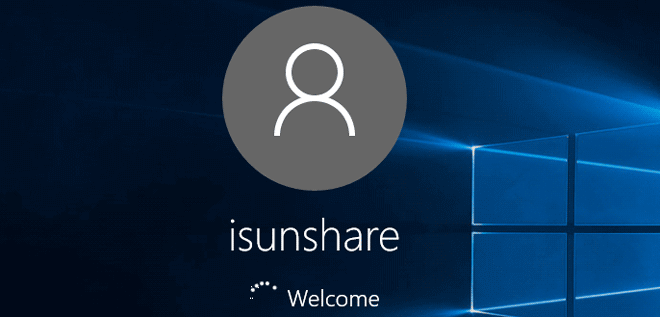 Or if only Microsoft account is shown on logon screen for you to choose, just select it and type its new password to unlock Samsung notebook.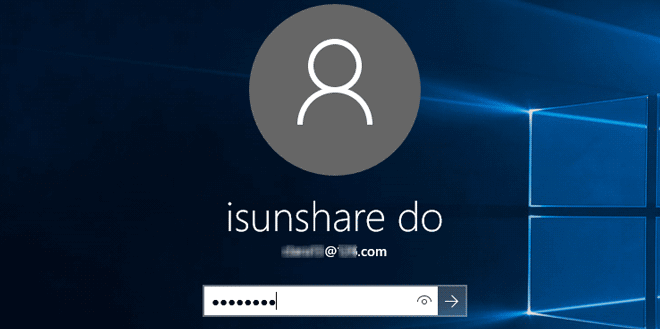 Note: Keep the new Microsoft account password in safe place. Or create a new password for the local account you just removed password. And make a backup in order to not remove or reset Windows 10 password again.
Related Articles:
How to Unlock HP Elitepad Tablet without Windows 8/8.1 Password Lenovo Tablet Windows 8.1/10 Password Reset without Disk