Turn on Find My iPhone for Antitheft and Data Protection
No one wants his or her iPhone to be stolen or lost since there are many important apps storing their private information such as email address, online bank account, etc. However, to prevent the loss at the most extent, it is strongly recommended to turn on Find My iPhone in advance which allows you to locate, lock or erase your iPhone when it is unfortunately lost or stolen. Meanwhile, this article shows you how to turn it on in detail.
Steps to turn on Find My iPhone in iPhone:
Step 1: Sign in to iCloud account in iPhone.
Access Settings > iCloud, and click Account to sign in.
It is an account consisting of username(email address) and a password.
Step 2: Turn on Find My iPhone in iPhone.
1. Enter Settings, tap iCloud or [your name] > iCloud.
2. Select Find My iPhone on the bottom.
3. Move the Find My iPhone slider to on or green to turn on Find My iPhone.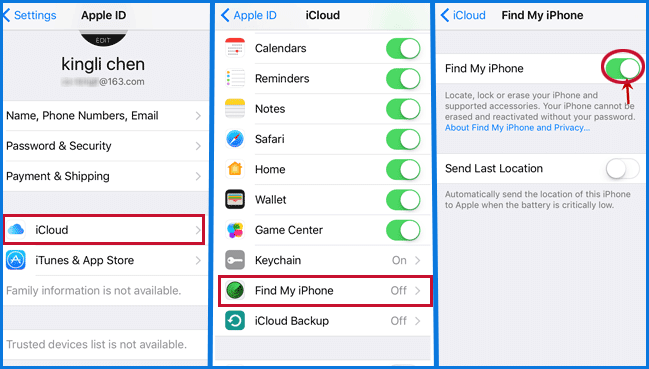 FYI, after turning on this function, you are able to log in your iCloud from another iOS device, and use it to locate your iPhone. Besides, you can enable the "Lost Mode" to lock your iPhone with the preset passcode or a newly-created password, or choose "Erase iPhone" to delete all your phone data.
If you want to turn off Find My iPhone because of some reasons, such as restoring iPhone data from backup, tap Find My iPhone in iCloud. Slide to turn off it. If you're asked to sign in, enter your Apple ID and password.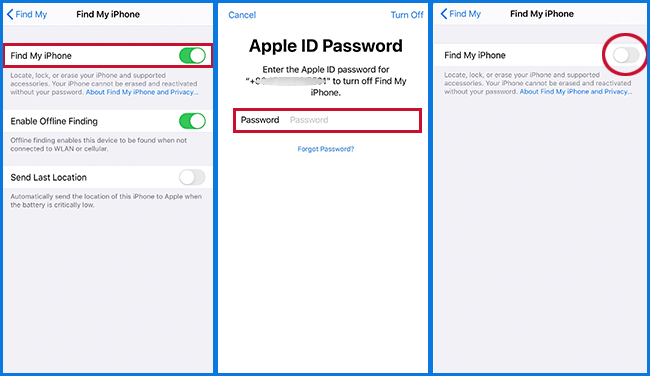 Related Articles: