Unlock Acer Windows 8 Laptop with or without Recovery Tool
How to unlock Acer Windows 8 laptop without password no matter whether you have password recovery tool or not? Pay attention to following methods.
Option 1: Unlock Acer Windows 8 Laptop with Recovery Tool
When you have no other ways, Windows password recovery tool is the most appropriate way to unlock Acer laptop. For example, Windows Password Genius unlocks Acer laptop or PC by removing or resetting Windows 10/8/7/Vista/XP/NT password and Windows server 2012/2008/2003/2000/NT password. This is because of Windows password reset disk it creates.
Now see how Windows Password Genius Advanced create password reset disk.
1. Download Windows Password Genius Advanced trial version to have a try or get full version to experience the whole powerful password recovery function.
2. Install and run it on another workable PC or laptop.
3. Insert bootable USB drive into computer and click Begin burning in Step 2 of 2.
When password recovery tool prompts you that password reset disk has been burned successfullly, exit USB and prepare to plug it into locked Acer laptop.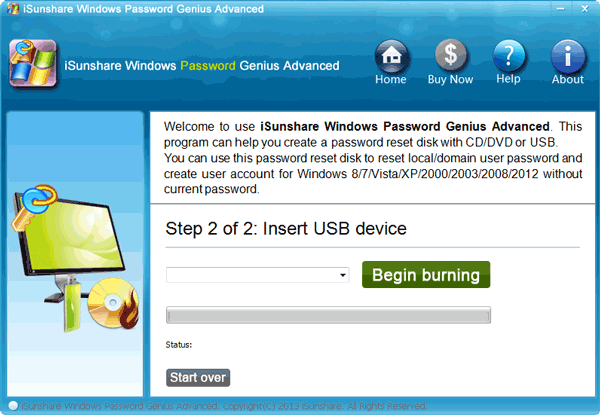 Password reset disk has been created so far. Next what we should do is to unlock Windows 8 with password reset disk.
1. Plug USB reset disk into locked laptop and start Acer laptop from USB.
First, start laptop and as soon as you see computer vendor brand, press F12 repeatedly to enter Boot Option Menu.
Second, choose USB device as boot device and save boot settings to boot Acer laptop.
2. Remove Acer Windows 8 forgotten password.
As soon as Acer Windows 8 laptop starts from USB, Windows Password Genius Advanced program runs on laptop. Select Windows 8 operational system and then select Microsoft account or administrator you forgot password. Click Reset Password next and Yes to remove Windows 8 admin password or reset Microsoft account password. At last, reboot Windows 8 and login with account you just reset its password, you would find you have been not locked out of Windows 8 Acer laptop.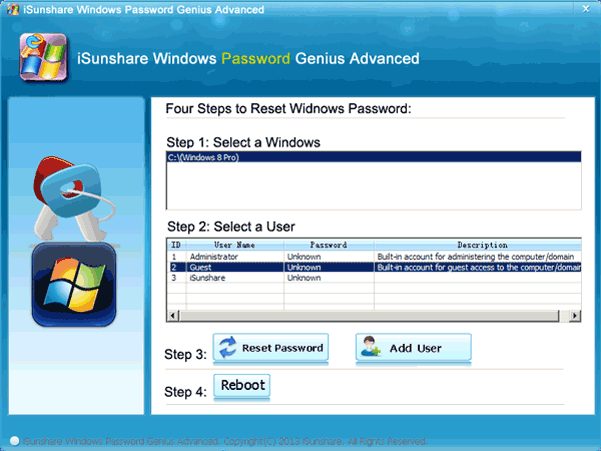 Option 2: Unlock Windows 8 Acer Laptop without Recovery Tool
If you have Windows 8 recovery drive available, please try following ways. If not, turn to Option 1 to unlock Windows 8 with password recovery tool.
Way 1: Unlock Windows 8 with Windows 8 Recovery Drive
This way requires Windows 8 recovery drive, which we should have created before we lost or forgot Windows 8 password. What's more, it is not simple but if follow the introduction below carefully, we would have no trouble in unlocking Windows 8 Acer password.
Step 1: Insert Windows 8 Recovery Drive into locked laptop and boot Acer computer from it. And after that you'll see Troubleshoot menu, click Advanced options.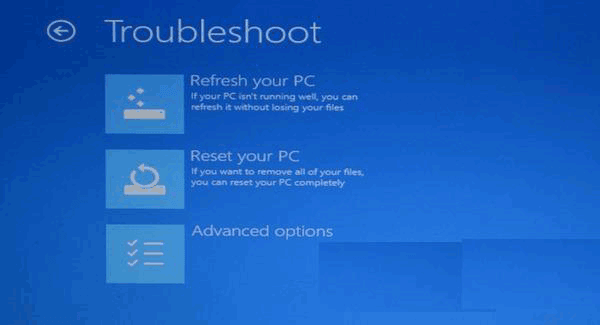 Step 2: On the next pop-up screen, click the Command Prompt option to open up a Command Prompt window.
Step 3: In Command Prompt window, type diskpart command and press Enter. Next type list vol and press Enter, you'll see a list of your disk partitions, from which you can easily find your Windows installation partition. In this case, C: is the drive letter of Windows 8 installation.
Step 4: Type exit command to exit the DiskPart utility. Next enter following command one by one. Make sure to replace C in the first command with the appropriate drive letter for your Windows partition, if it's different in your case.
C
cd windows
cd system 32
ren Utilman.exe to Utilman.exe bak
copy cmd.exe Utilman.exe
Step 5: This command will replace the Utilman.exe (Ease of Access) with the Command Prompt (cmd.exe). Remove the Windows 8 Recovery Drive and reboot the system.
Once computer booted to the login screen, click the Ease of Access button at the bottom left corner. It will open a Command Prompt window instead of the Ease of Access menu.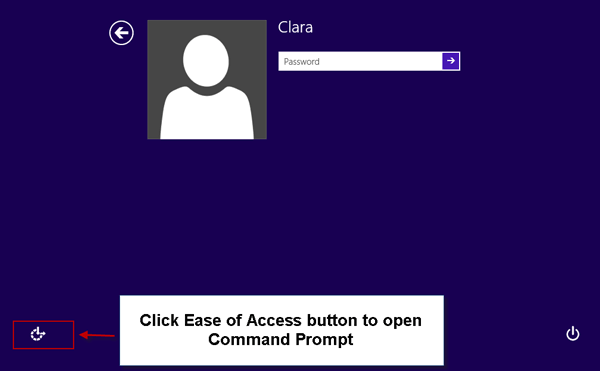 Step 6: Type in net user command and press Enter, it will list the exact names of all the user accounts available in your Windows 8 system.
Enter the command below to reset a lost or forgotten password. In the example, we will change isunshare password to 12345.
Net user isunshare 12345
Step 7: Type exit command and press Enter. You'll return back to the login screen.
Now you should be able to log into your PC using the new password. After getting into Windows 8, please remember to rename the Utilman.exe bak back to Utilman.exe. That's all. You have successfully reset your forgotten Acer Windows 8 password.
Way 2: Unlock Windows 8 in Safe Mode
This way requires a built-in administrator, which was disabled by default when you install Windows 8 for the first time. But when you forgot Windows 8 user password, you can boot into Safe Mode and login with Windows 8 administrator account and reset Windows 8 user password. So it is easy to use if you know it well.
Press on the SHIFT + F8 key while you start Windows 8 until your PC displays the boot menu.
Select Safe Mode option and press the Enter key

Then a login box appears, click on Administrator in the username box and leave the password field as blank, click on OK to login with built-in administrator without password.
Now you can open Control Panel, then in User Accounts you can reset any user password easily.

The above two ways surely could reset forgotten Windows 8 password for Acer Aspire R7/S7 and other Acer/Lenovo/Dell/HP/Samsung laptop, but encryted files would lose at the same time. If you want to unlock Windows 8 password easily without any data loss, Windows Password Genius Advanced is the best choice. Because it is designed to recover or remove Windows 8 password for persons who couldn't find other password reset methods.
Related Posts: