How to Hide Windows 8/8.1 Start Menu
In Windows 8/8.1 computer, there is no start button on the bottom left corner of the desktop. Therefore, if you want to display start menu, on one hand, you can choose to manually add Start Menu to the desktop taskbar (see the following picture).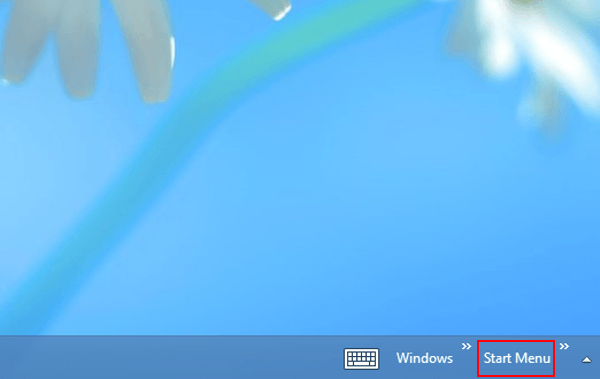 On the other hand, you can open it from the Windows folder on taskbar, as shown in the picture below.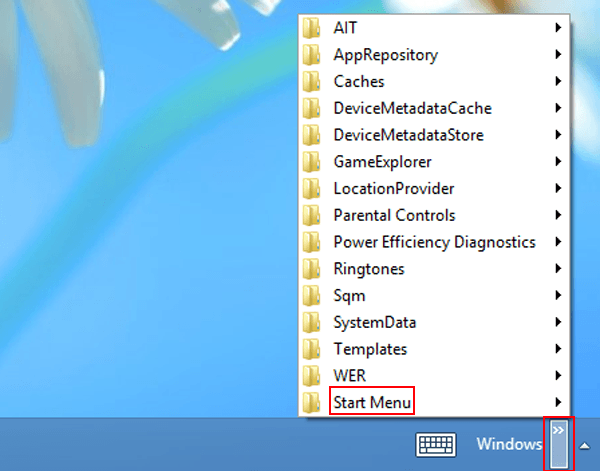 Tip: If you would like to know how to show the Windows folder on taskbar, please refer to How to Add Windows Folder to Taskbar in Windows 8.
At the same time, you may wonder whether you can hide it from the taskbar or not. To reassure your worry, based on the above two methods to display start menu, this article will introduce two ways to hide Windows 8 start menu step by step.
Video guide on how to hide Start Menu in Windows 8:
2 ways to hide Windows 8 start menu:
Way 1: Hide Windows 8 start menu in Taskbar Properties.
Steps 1: Open Taskbar Properties window.
Right-click any blank space in the taskbar and select Properties in the context menu.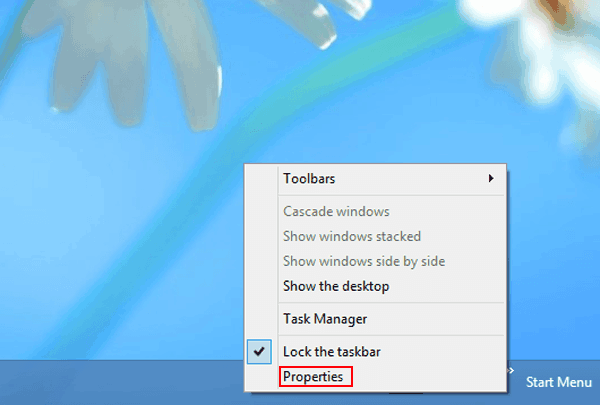 Step 2: Unselect Start Menu in Toolbars.
In the Taskbar Properties interface, choose Toolbars, uncheck the box before Start Menu and click OK to complete the changes, as shown in the following picture.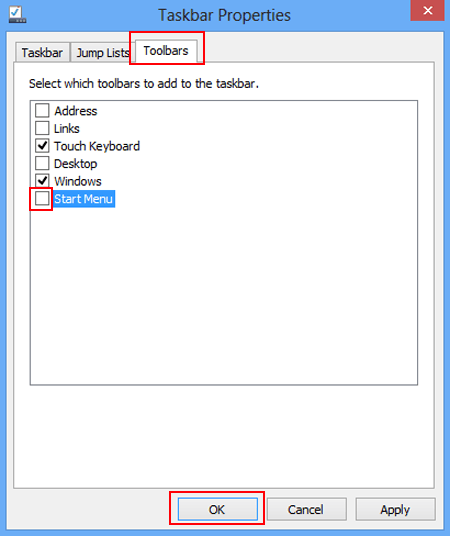 Surprisingly, applying this method, you can find that only two steps enable you to hide Start Menu from the taskbar on Windows 8 computer. Please refer to the following screen shot.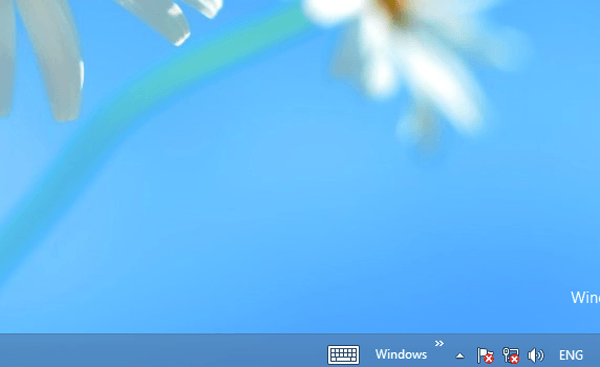 Way 2: Hide Windows 8 start menu in Windows.
Step 1: Open Start Menu Properties.
Tap the right arrow button beside Windows on taskbar, right-click Start Menu in the list and select Properties, as it is exhibited in the photo below.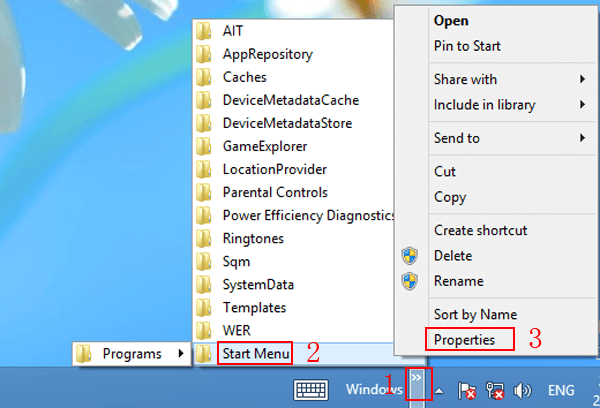 Step 2: Choose Hidden attributes in the Properties window.
In General, under Attributes, check the box before Hidden and click OK.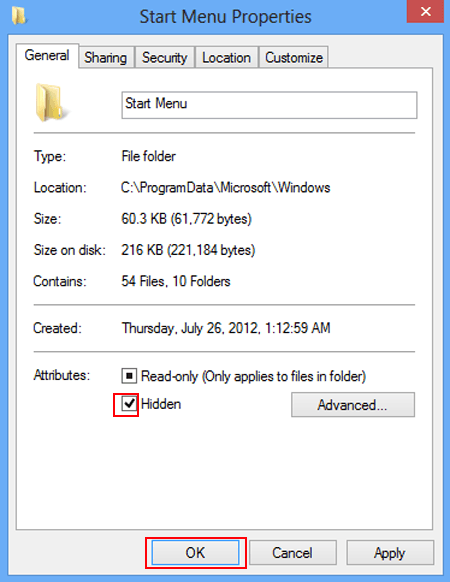 Step 3: Apply the attribute changes.
In the Confirm Attribute Changes interface, you can directly click OK to apply changes to this folder, subfolders and files. Or select Apply changes to this folder only and tap OK.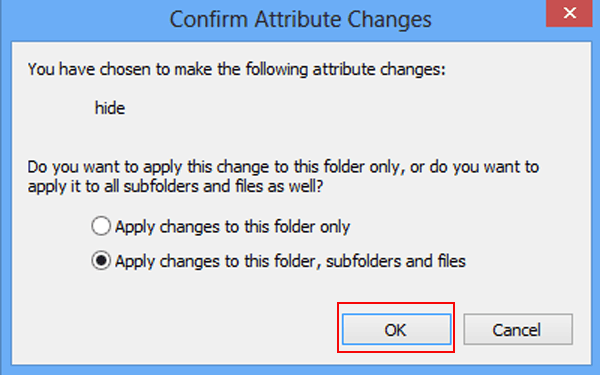 Step 4: Provide administrator permission to change attributes.
As Access Denied dialog box turns up, click Continue to finish this step.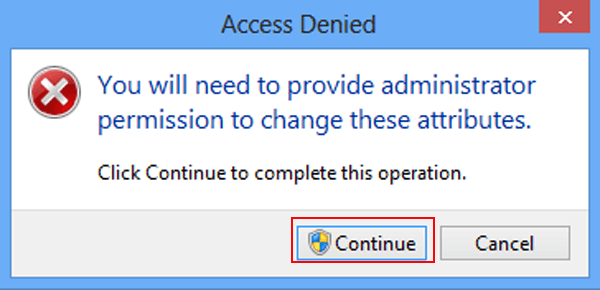 As you can see from the following photo, Start Menu is hidden in Windows successfully.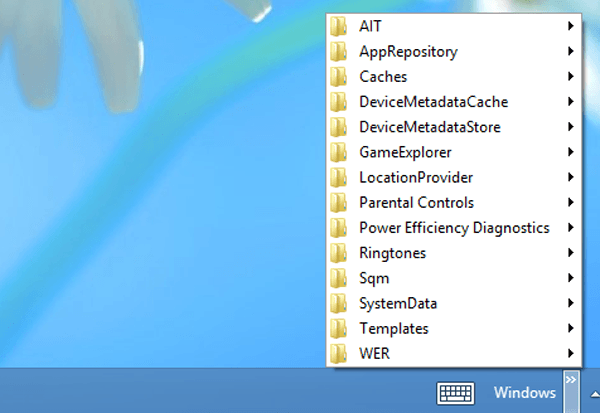 In a conclusion, if you have added Start Menu to taskbar, the first method is easier for you to hide it. Furthermore, if there is no Start Menu in taskbar, you can use the second way to realize the goal.
Related Articles: