How to Access UEFI BIOS Setup in Windows 8/10 New PCs
UEFI (Unified Extensible Firmware Interface) is a standard firmware interface for new PCs pre-installed with Windows 8/10, which is designed to replace BIOS (basic input/output system).
If your computer has not been installed with Windows 8 and 10, just need to follow traditional method to boot computer from USB device or CD-ROM. If not, how can you enter UEFI BIOS settings to set new Windows 8/10 computer boot from USB/CD-ROM?
Please see following four methods. They will help you access UEFI BIOS Setup screen (sometimes called BIOS Setup Utility or Boot Options screen) when computer is accessible or locked.
Method 1: Access UEFI BIOS Setup with Hot Key
If the computer system has a pre-UEFI BIOS, and you want to access UEFI BIOS Setup with high speed, you can enter BIOS setup or UEFI firmware via this traditional method, hot key. Boot PC and just tap hot key at computer logo while system is starting up to access the UEFI system setup.
Tips: Keys for various BIOS/UEFI
However, computer taken with pre-UEFI BIOS boots fast, maybe you often miss the trick to press hot key. So if it couldn't help you after several tries, please go on and follow other three methods below.
Method 2: Access UEFI BIOS by PC Settings
The process to access UEFI BIOS Setup by PC settings in Windows 8 is similar to Windows 10. The biggest difference is how to enter Advanced startup.
Windows 8/8.1: Settings > Change PC Settings > General > Advanced startup > Restart Now > Troubleshoot > Advanced options > UEFI Firmware Settings > Restart
Windows 10: Start > Settings > Update & Security > Recovery > Advanced startup > Restart now > Troubleshoot > Advanced options > UEFI Firmware Settings > Restart
Step 1: Enter Windows 8/10 Advanced startup option.
1. Access Windows 8 Advanced startup option:
In Windows 8, you can move your mouse to the upper-right side of window and choose Settings.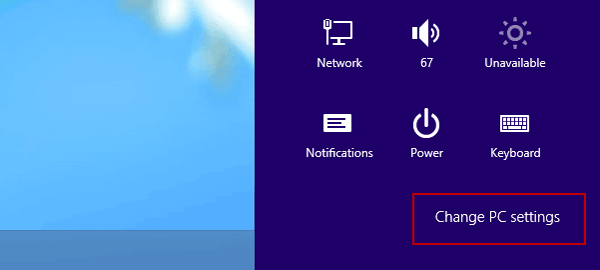 Then click Change PC Settings at the computer bottom below Settings. Following, in the opening PC settings window, select General and you can see Advanced startup.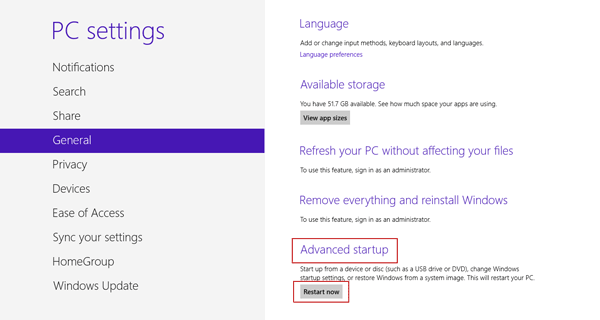 2. Enter Windows 10 Advanced startup option:
In Windows 10, click Start menu and choose Settings.

Then in Settings window, choose Update & security.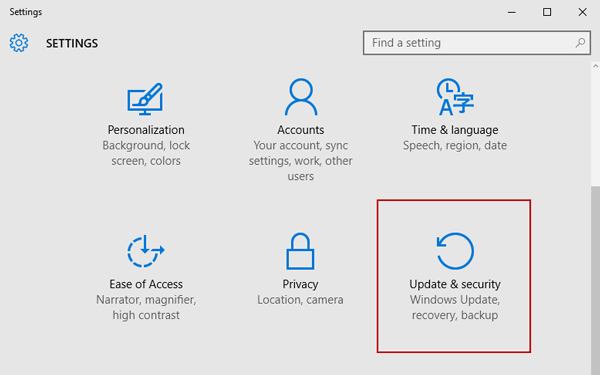 When go to new window "UPDATE & SECURITY", click Recovery on the left panel and you can see Advanced startup at the right side.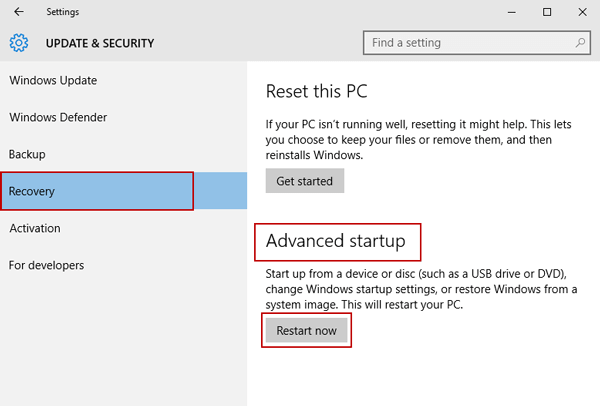 Step 2: Click Restart now under Advanced startup option.
Step 3: Choose Troubleshoot in several options.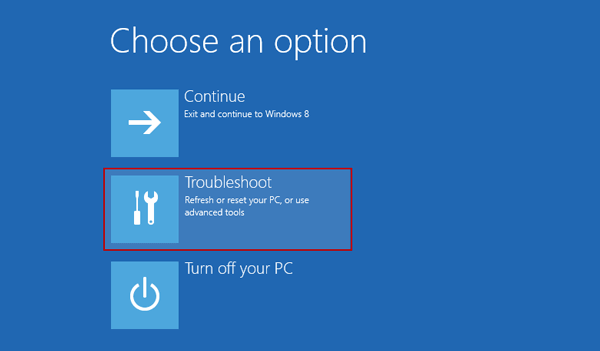 Step 4: Select Advanced options in Troubleshoot.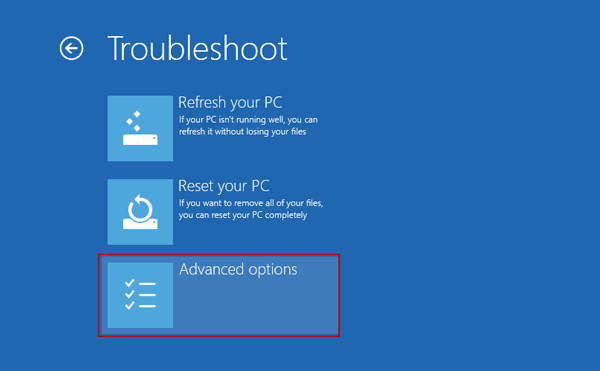 Step 5: In Advanced options window, you will see UEFI Firmware Settings. Just click it.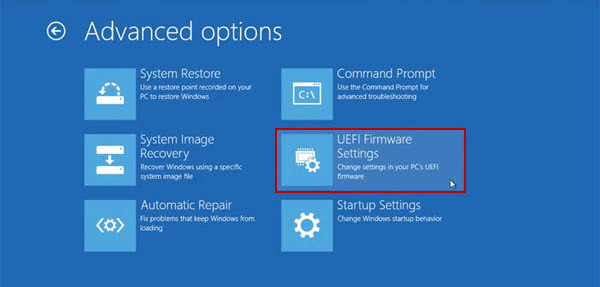 Step 6: Restart to access UEFI BIOS Setup and change UEFI firmware settings.

Method 3: Access UEFI BIOS by Command Prompt
With this method, you will access UEFI BIOS Setup easily with one command and several clicks.
1. No matter you are in computer desktop or not, press Win + X to access menu and select Command Prompt (Admin) in menu.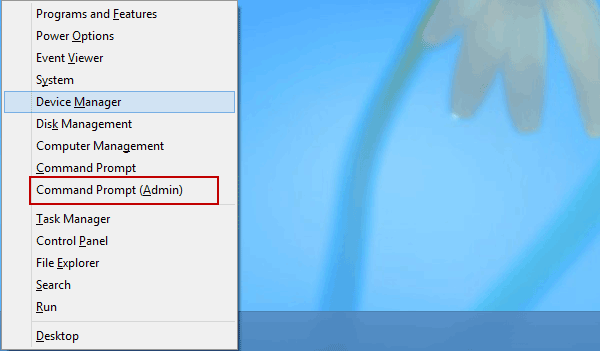 2. While there is a dialog popping up to ask you whether allow Command Prompt to make changes to this computer, type an administrator password and click Yes.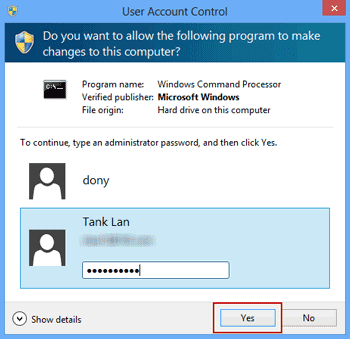 3. Type the following command and press Enter.

shutdown.exe /r /o

A message displays in the middle of the screen warning you that you are about to be signed off. Windows 8/10 will reboot automatically in less than a minute. If all above works normally, you would access Advanced startup options and you are available to choose Troubleshoot. Next steps will be the same to Method 2 (Step 3 - 6).
Method 4: Enter UEFI BIOS by Holding down Shift While Choosing Restart
This method even works if you haven't signed into Windows 8/10 at all, as long as you're on the login screen and can access the restart menu.
Compared to above two methods, this is a faster way to access UEFI bios options menu.
Step 1: Just simply find the Shut down or Restart button on login screen, and hold down the Shift key while you click on Restart.

Step 2: Once you've done this, instead of fully rebooting, the blue boot options menu displays. In order to use the advanced tools, click Troubleshoot. Then you can choose to access Advanced options.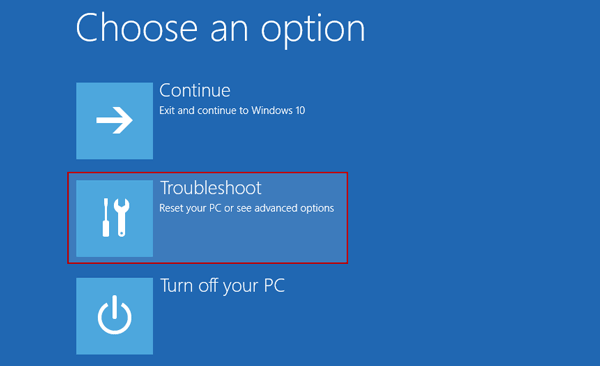 Step 3:  All of the options are available on the Advanced options menu. To change how Windows 8/10 starts up, click Startup Settings now.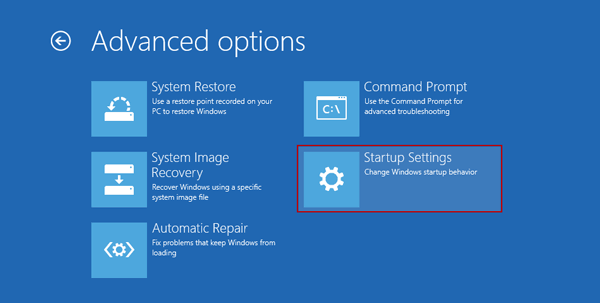 Step 4: Now several options shows and they will be available when Windows restarts next time. So click Restart to reboot Windows system and access to these options.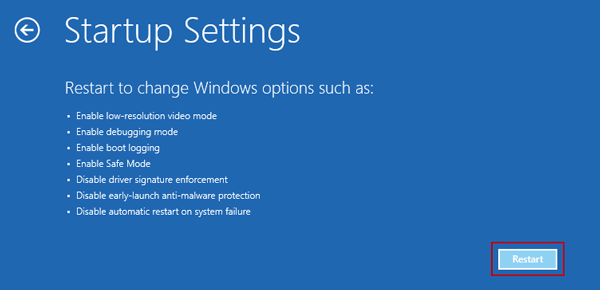 Step 5: Press F10 to get more options.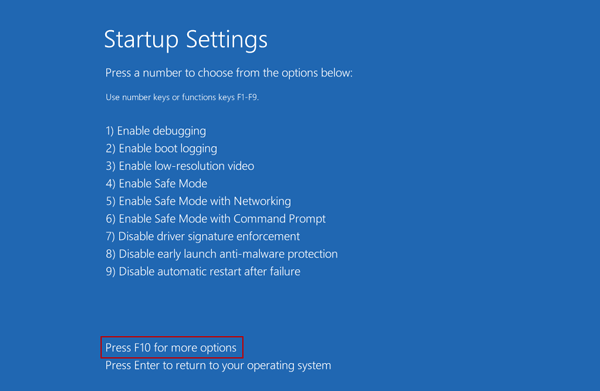 If you want listing options are available for you now, just need to select the option by using the number or the function keys F1-F9. If you don't want to use any of these options, you can boot normally by pressing Enter.
Step 6: Press F1 to launch recovery environment.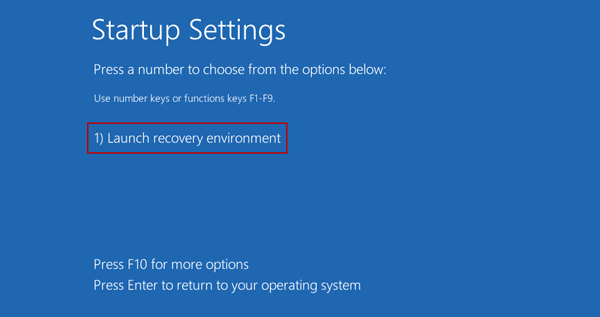 Launch recovery environment is the extra option accessed by pressing F10. To return to the other options, press F10 again.
While you have successfully accessed UEFI BIOS Setup screen, navigate to Boot option in BIOS setup utility interface, and choose USB drive or CD/DVD-ROM as first boot device, even though the way to set USB drive or CD-ROM as first boot device is different for different kinds of brand computer.
Related Document: