How to Clear Power on Passwords from Locked Laptops
Laptop is locked, how to clear power on password and login laptop without password?
This is a realistic thought when we encounter such a problem. Clear power on password directly, and then whether set a new password for laptop logon later according to detailed situations.
Now in the following passage, two effective ways will be introduced to clear laptop power on passwords directly. Believe there would be always one available for you.
Way 1: Clear Power on Password for Locked Laptop with Windows Password Genius
The key to clear laptop power on password with Windows Password Genius is password reset disk. So now choose appropriate version of Windows Password Genius to create an available password reset disk.
Step 1: Create a Windows password reset disk for locked laptop.
According to the Windows system installed on locked laptop, select appropriate Windows Password Genius version. Of course, Windows Password Genius Advanced would be your best choice, because it works for Windows 8.1/8/7/Vista/XP/2000 and Windows server 2012 (R2)/2008 (R2)/2003/2000 etc.
1. Download and install Windows Password Genius Advanced on accessible computer. And insert bootable USB drive into this computer.
2. Run the Windows password recovery software and select USB Device. Choose inserted USB drive from drop-down box. And then click "Begin burning" button on the right side.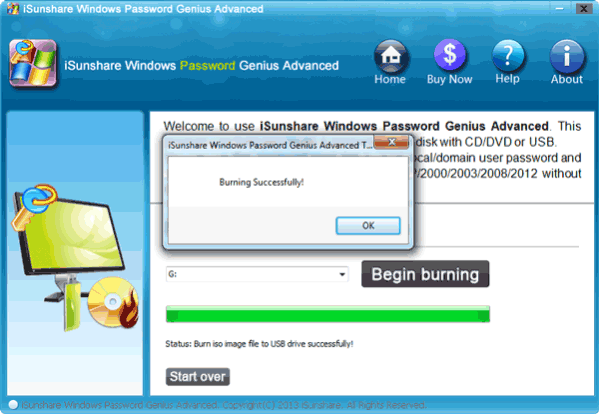 3. Not until you get "Burning Successfully" message, don't get USB drive out of computer.
If you have no bootable USB drive, CD/DVD-ROM is available too. But please notice that not all of laptops have CD drive to boot password reset disk.
Step 2: Take password reset disk to clear laptop power on password.
After you receive password reset disk, plug it into locked laptop. Prepare to remove laptop power on password.
1. Set laptop boot from USB device to run Windows Password Genius Advanced program.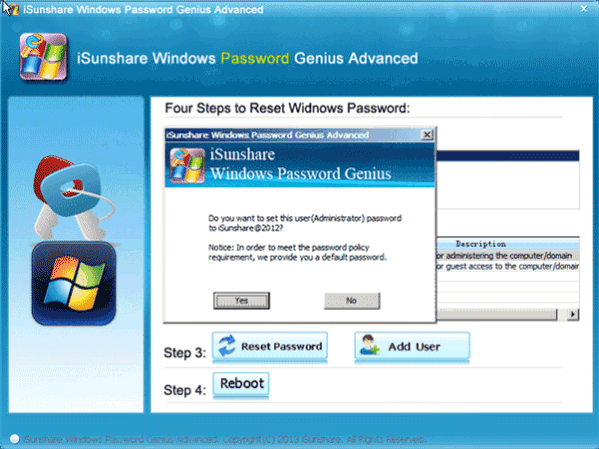 2. Select laptop power on users in user list and click "Reset Password".
Instantly, unknown password has been removed and become blank. Reboot laptop and turn to laptop logon screen, and type no password to login Windows.
Way 2: Clear Laptop Power on Password with Offline NT Password and Registry Editor
Why Offline NT Password and Registry Editor could clear power-on password? It is because of Chntpw disk in this password recovery tool.
1. Get Offline NT Password and Registry Editor bootable CD image or USB install.
Download it here: http://pogostick.net/~pnh/ntpasswd/
2. Set locked laptop boot from Offline NT Password and Registry Editor.
After Offline NT Password and Registry Editor starts successfully on locked laptop, go on following steps to do step by step.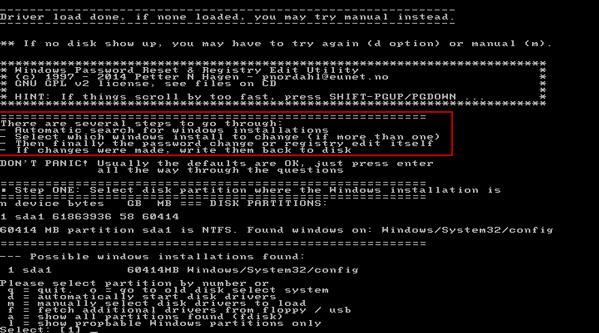 3. Select Windows system disk. If there is only one partition, press Enter to select it.
4. Select path and registry files. And then select which part of registry file to load. Now we select "Password reset".
5. On chntpw Main Interactive Menu, select "Edit user data and passwords".
About more details on how Chntpw disk reset Windows password, please turn to:
How to Reset Windows Password with Chntpw Disk
Above two utilities could remove or clear laptop power-on password effectively, Windows Password Genius and Offline NT Password and Registry Editor. What we should compare are their easy of use and security.
Compare to Offline NT Password and Registry Editor, user-friendly visual interface of Windows Password Genius makes password clear easier. Besides, it works for all of Windows operational systems. And Offline NT Password and Registry Editor applies to professional computer users more. All of them clear password by changing registry file in sam. So laptop security is no need to be worried.
Related Topics: