Forgot Windows 10 Tablet Password - How to Recover/Reset
Windows 10 tablet password forgot, what can I do to remove, recover or reset Windows 10 tablet password?
If it is Microsoft account password, you just could reset it on Microsoft account password reset page online.
If it is local account password, there would be many ways that you can use to recover or remove it. For example:
Way 1: Change Windows 10 Tablet Password with Sign-in Options
Besides password, PIN code and Picture password created for user account could be used to login Windows 10 tablet. So when you forgot Windows 10 tablet admin password, and you have created the sign-in options for this administrator, it is time to sign in Windows 10 tablet with them.
For example, if you want to login Windows 10 with PIN code, click Sign-in options and select PIN code under user account and password box. (Picture password is similar to PIN code when used to login Windows 10.)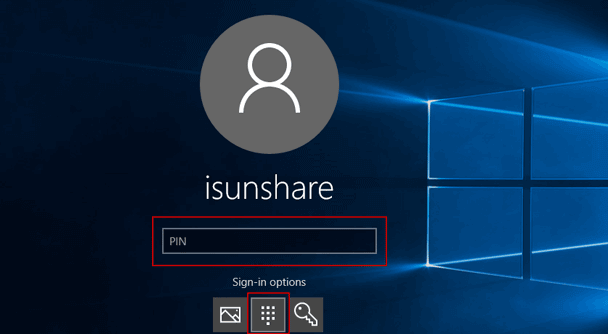 Then type PIN code in password box and press Enter. When Windows 10 tablet is opened, and you will possess the privileges of that user. So change Windows 10 user password with command prompt now will be available if the user is administrator account or built-in administrator has no password protection. About the details, you can see the Step 2 - 4 in Way 2.
Way 2: Recover Windows 10 Tablet Password with Built-in Administrator
If you have enabled Windows 10 built-in administrator while tablet is accessible, or you can enable built-in administrator on locked windows 10, now you can choose Administrator on logon screen to sign in Windows 10 tablet and then recover Windows 10 tablet password with command prompt, computer management or control panel.
Step 1: Sign in Windows 10 tablet with Administrator.
Select Administrator on the left bottom corner of Windows 10 login screen, and click Sign in to access Windows 10 without password.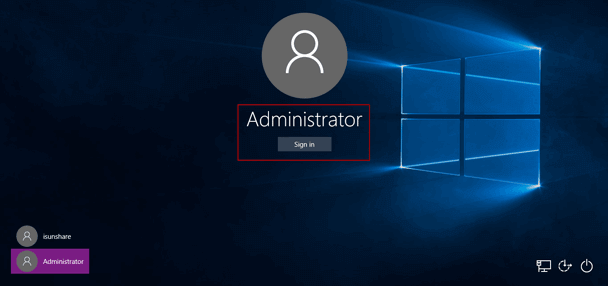 Step 2: Click Start button > All apps to browse apps on Windows 10 tablet.

Step 3: Browse W group and view apps in Windows System. Right-click Command Prompt and click Run as administrator to run command prompt as administrator in windows 10.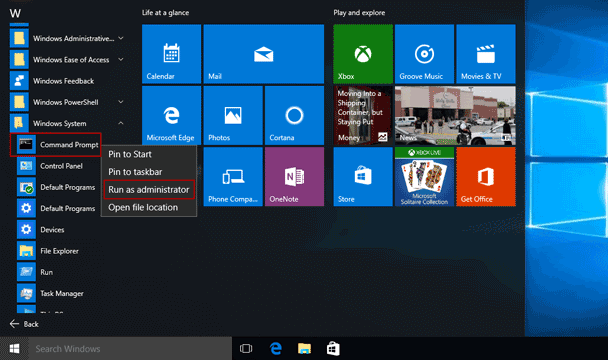 Step 4: Type net user command net user <user name> <new password> and press Enter.

<user name> is the user account you want to reset password, <new password> is the new password set for user account. Windows 10 tablet forgotten password will be reset after the command runs successfully.
Way 3: Reset Windows 10 Tablet Forgotten Password with Password Reset Disk
After forgot Windows 10 tablet password, password reset disk is always the effective recovery disc that can reset local user and domain password for all Windows systems. Moreover, it can be used easily by following Password Reset Wizard on Windows 10 login screen.
After wrong password input on logon screen, click Reset password link under password input box and follow Password Reset Wizard to reset Windows 10 tablet forgotten password.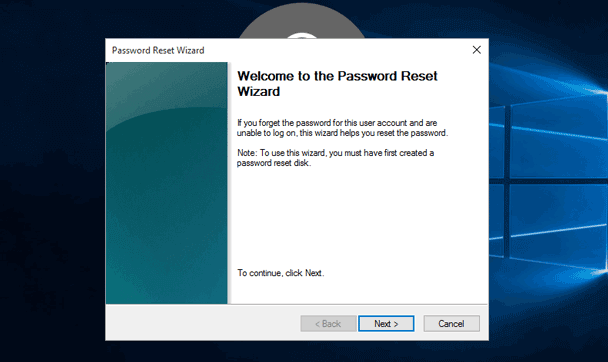 Note:
Password Reset Wizard only works when password reset disk is created previously for local user on the accessible tablet. But now Windows 10 tablet is locked, if you have not created before, how can you get such reset disk for Windows 10 tablet password reset?
Just burn Windows password recovery tool, such as iSunshare Windows 10 Password Genius into writable USB flash drive. And you would also get a Windows password reset USB disk, which will be more powerful than that created previously, because it applies to all Windows 10 pc/laptop/tablet and could directly remove forgotten Windows 10 password from locked PC/laptop/tablet.
Step 1: Create password reset disk with Windows Password Genius
In order to burn password reset disk available for Windows 10 password reset, now we have to get Windows 10 Password Genius on accessible computer.
1. Run Windows 10 Password Genius and insert bootable USB flash drive into the computer.
2. Choose media type USB device and select plugged USB flash drive. Then click Begin burning button.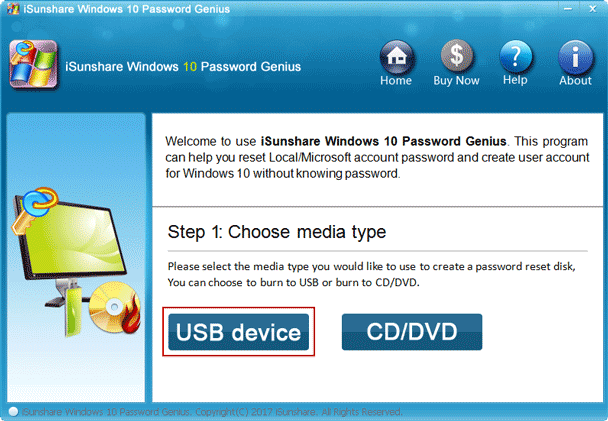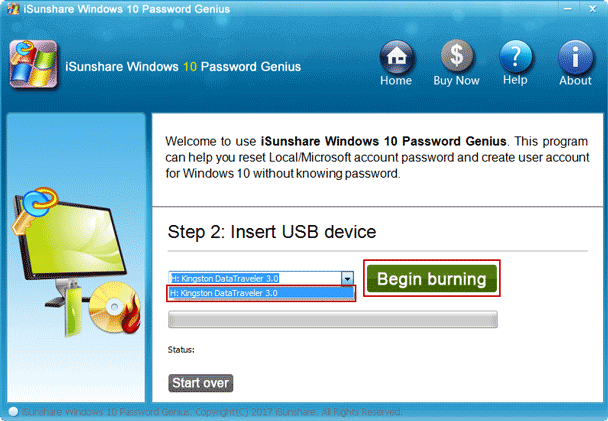 3. Agree to format the USB drive and begin burning password reset disk with it.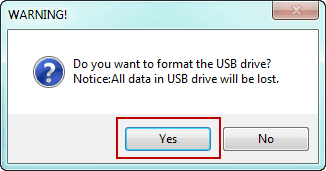 4. Until Burning Successfully message appears, you can know password reset disk has been created.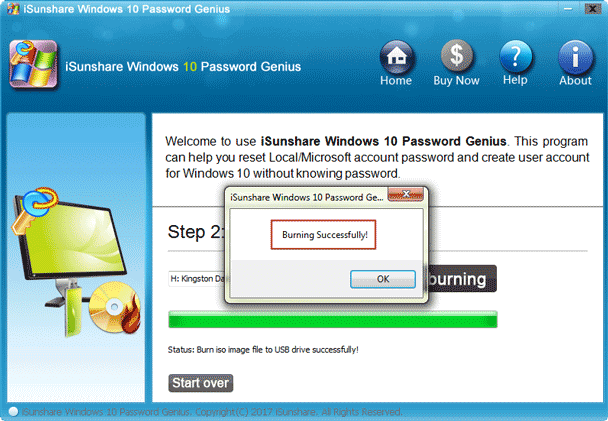 5. Click OK and exit USB reset disk prepared for Windows 10 tablet password reset.
Step 2: Reset Windows 10 tablet forgotten password with reset disk
1. Plug USB reset disk into locked tablet and set tablet boot from USB drive.
Tips: How to Boot Surface PC Tablet from USB Device
2. When Windows 10 Password Genius runs on locked tablet, select Windows 10 system and administrator in user list, then tap on Reset Password button.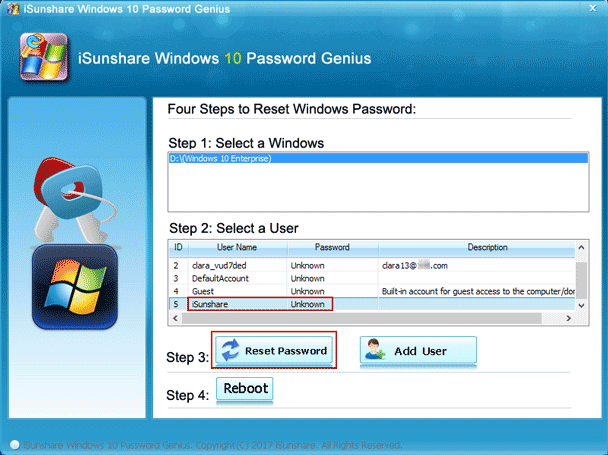 3. Click Yes on pop-up dialog to make sure remove user password.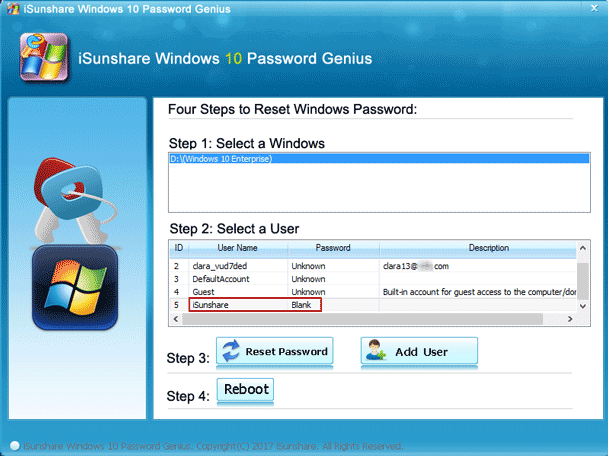 You can also create new administrator with "Add User" button for Windows 10 tablet on Windows 10 Password Genius program. If you don't want to do that, tap Reboot button now to restart tablet in order to make Windows 10 tablet password reset effective.
Related Articles: