How to Reduce iOS Data Loss after Update or Factory Reset
Each update and factory reset has its good and bad sides. While we decide to fix some problems by updating our iOS devices to newer iOS version, or restoring iPhone/iPad/iPod to factory settings, we should realize that iOS data would be lost.
However, it is not what we hope to see and we don't expect that lost iOS data cannot be restored any more. So reducing iOS data loss as much as possible becomes another problem for Apple users.
Even though it seems tough, two measures still could be summarized by Apple users to reduce even prevent iOS data loss.
Two Measures to Reduce iPhone/iPad/iPod Data Loss after Update or Factory Reset
Measure 1: Directly Restore iPhone/iPad/iPod Lost Data from Backup
iTunes backup and iCloud backup are two backup file for you to choose for data recovery after iOS upgrade or restoring iOS devices to factory settings. Surely, you have to notice that your iOS device has been backed up with iTunes or iCloud.
Tip: How to Back up iOS Devices with iTunes and iCloud
With iTunes backup, you can restore nearly all of your device's data and settings. However, iTunes backup would not include content from the iTunes and App Stores etc, content synced from iTunes, photos already stored in the cloud, Touch ID settings, Apple Pay information and settings and Health and Keychain data.
With iCloud backup, you can get back nearly all data and settings that have stored on your device. But you cannot restore data not in iCloud backup, such as data that's already stored in the cloud or in other cloud services, Apple Pay information and settings, Touch ID settings, content you didn't get directly from iTunes, App etc, and iTunes in the Cloud and App Store content.
In order to reduce iOS data loss better, please see the article introducing how to restore iOS devices data from backup in details.
Measure 2: Recover iPhone/iPad/iPod Lost Data with iOS Data Genius
iOS Data Genius is an effective iOS data recovery app for Apple users to easily recover or extract iPhone/iPad/iPod data from iOS device or iTunes backup.
With such iOS data recovery software, you can preview lost data first, and then decide to recover which one. Therefore, it would be easier and user-friendly for users to reduce iPhone/iPad/iPod data loss than directly restoring iOS data from backup.
Steps to reduce iPhone/iPad/iPod data loss by recovering iOS data with iOS Data Genius:
Step 1: Install and run iOS Data Genius on computer.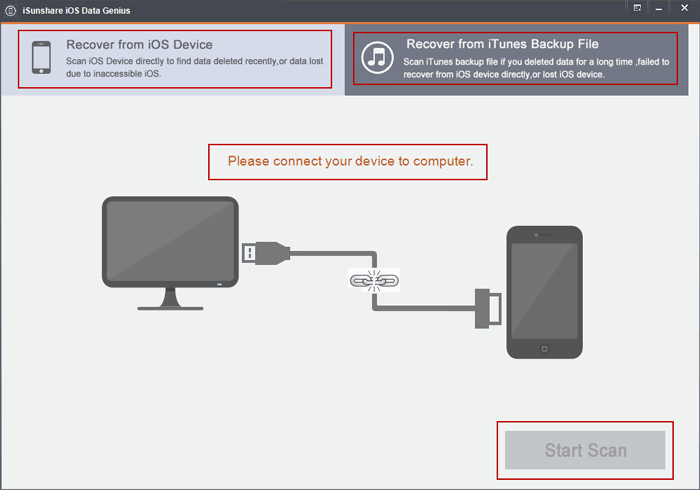 Step 2: Preview iOS lost data with iOS Data Genius.
Select iPhone/iPad/iPod data recovery mode, Recover from iOS Device or Recover from iTunes Backup File.
Connect iOS device to computer and tap Start Scan. Or select iTunes backup for your iOS device, and tap "Start Scan".

Note: Connecting iOS device to computer depends on whether you choose "Recover from iOS Device" mode.
Click data folder in new interface to preview iOS lost data.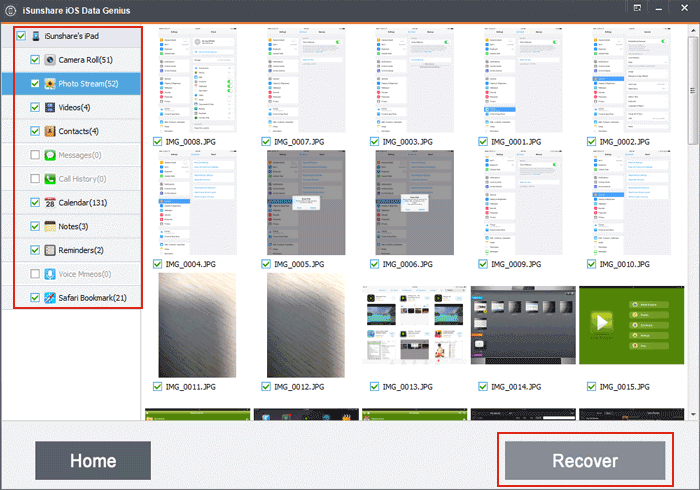 Step 3: Recover iPhone/iPad/iPod lost data and save on computer.
Check the data in the left side, and tap Recover button at the bottom side. Then select a folder to save data on computer. While iOS Data Genius finishes data recovery process, you would get Recover successfully message. And you can click OK to go to folder where recovered iOS data saves.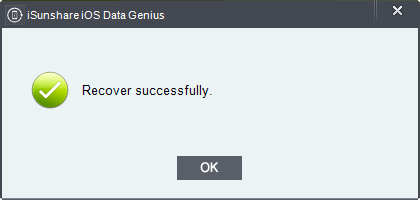 Step 4: Transfer lost data to iOS devices with iTunes.
As soon as iOS lost data is successfully recovered with iOS Data Genius, it's time for you to transfer them to your iOS device.
Tip: How to Transfer Data on PC to iOS Device
Differences between Measure 1 and Measure 2:
Measure 2 is easier to use than Measure 1.
Measure 2 is more effective than Measure 1, because users could preview iOS data before recovery with Measure 2 and less time spent.
Measure 1 is free but if you want to user Measure 2 to recover iPhone/iPad/iPod data not only preview iOS data, you would need to pay for iOS Data Genius full version.
Related Articles:
How to Remove iPhone/iPad/iPod Backup Data from iCloud Storage How to Cancel Official Windows 10 Free Upgrade iCon