How to Disable PDF Viewer in Different Versions of Chrome
As it is known to us, Chrome has a built-in PDF viewer, which is fast and convenient for users to open PDF files. However, it blocks your access to open other software. To solve this problem, you can go with the procedure below to learn about how to disable PDF viewer in different versions of Chrome.
Note: To view version of your Google Chrome, type "chrome://version" into your address box and hit Enter.
Disable PDF Viewer in Chrome lower than Version 57
Step 1: It is the easiest thing to disable PDF viewer in Chrome which is lower than version 57. You just need to input "chrome://plugins" in the address box and press Enter. It will automatically reach the Plugins page.
Step 2: Find Chrome PDF Viewer from the list and click on the Disable link.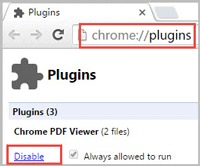 Disable PDF Viewer in Chrome higher than Version 57
From Google Chrome version 57 onward, if you use the command "chrome://plugins" it will show you the error about "This site can't be reached". So let's go on several steps below.
Step 1: Open Chrome, click on vertical ellipsis menu button at the top-right corner and select Settings.
Step 2: At the button of the page, click Advanced to show more options. Scroll down and select Content settings under Privacy and security section.

Step 3: Find and select "PDF documents" and turn off the option which is saying "Open PDF files in the default PDF viewer application" to disable Chrome PDF Viewer.

Related Articles: