Fix: Shockwave Flash Crashed Constantly in Firefox
Speaking of Firefox, we all know that it is one of the most favorite browsers in the world. Nevertheless, Firefox may cause Shockwave Flash crash at times. This must be a frustrating experience for you. To fix the error, follow the troubleshooting steps below.
5 Ways to Fix Shockwave Flash Crash in Firefox Windows 10
Way 1: Stop crashing from updating Firefox and Shockwave Flash Plugin
When Firefox pop-up a "Warning: Unresponsive plugin" notification, that means the Flash doesn't work as you expected. The first step you need to troubleshoot the problem is updating your Firefox and Shockwave Flash Plugin.
Way 2: Disable hardware acceleration to repair Firefox crashing error
Enable hardware acceleration doesn't work very well at Shockwave Flash. Hence, it is necessary for us to disable it manually. Follow the easy steps to fix Firefox crashing error.
Step 1: Open Firefox, in the video playing page, right-click on where the video is showing and select Settings.
Step 2: Uncheck the box is saying "hardware flash acceleration", click Close to finish.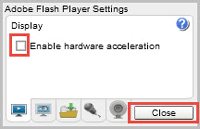 Way 3: Fix Firefox crash by forbidding the flash plugin anti-crash feature
Step 1: Input "about:config" command in the Firefox address box and hit Enter. Here will pop-ups window to show you "This might void your warranty!" and you need to tap on the "I accept the risk!" button.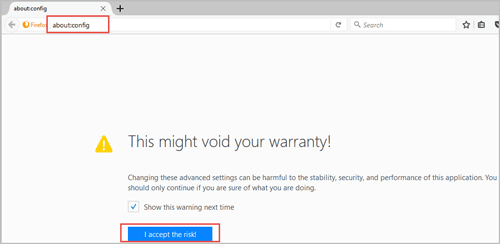 Step 2: Type "dom.ipc.plugins.flash.subprocess.crashreporter.enabled" in the Search box and press Enter. You can see the option as the image below. You can right-click on the option and select "Toggle" or double click on the option to automatically to change the value to "false". Thus you can forbid Firefox Shockwave Flash from crashing.

Way 4: Change the configuration to get rid of Firefox Flash crashing
Step 1: Input "Notepad" in the Windows search box in the taskbar, right-click on the option and select Run as administrator.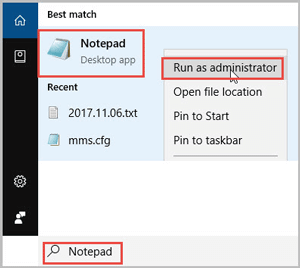 Step 2: Once the Notepad is opened, click File at the top-left and choose Open.
Step 3: In this step, choose the directory below to open the folder according to the version of your system.
Windows system of 32-bit: C:\Windows\System32\Macromed\Flash
Windows system of 64-bit: C:\Windows\System64\Macromed\Flash
In the Flash folder, you can click on "mms.cfg" file to open.
Note: If there doesn't appear the "mms.cfg" file, you can create one named as "mms.cfg".
Step 4: Add "ProtectedMode=0" to the end and Save. Open Firefox, play your video and test whether it still keeps crashing.
Way 5: Turn off Shockwave Flash While Firefox keeps crashing
Step 1: Click on three horizontal lines at the top-right corner and select Add-ons.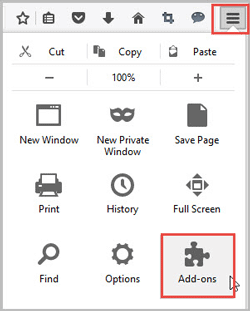 Step 2: Tap on Plugins on the right panel. Click on Options behind Shockwave Flash and uncheck the checkbox of Block dangerous and intrusive Flash content.

Related Articles: