Repair: Captcha Graphic Image Not Showing in Your Browser
Sometimes the captcha graphic image not showing up when you try to commit your comment or log in a website, it may cause by network latency or refresh speed. In this case, you can press F5 to refresh the webpage or open this site in another browser. What's worse is that all the websites cannot display the captcha graphic image. As for this issue, it is caused by several reasons, so follow the details below to troubleshoot.
Workaround 1: Fix "Captcha image not working" through Control Panel
Step 1: Clear cookies in your browser. You can click the following links to see detail tutorials.
For Chrome: How to clear cookies in Google Chrome
For another browser: How to erase cookies in your web browser
Step 2: If you use a third-party browser, you might not have the same menu. Most of the third-party browsers all use Internet Explorer Kernel so you can make a setting in Control Panel. Then navigate to Network and InternetInternet Options.
Note: For Windows 7, you can click on Start menu and select Control Panel. For Windows 8, 8.1 or 10, you can input Control Panel in the Cortana Search Bar and press Enter.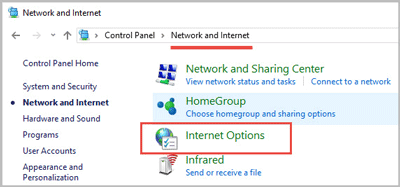 Step 3: In the Internet Properties window, click on General tab. Click on Delete button then check on all items in the pop-up window and Delete again. Waite for a while, when the cleaning is finished, you can reload the website. Check the captcha graphic image shown to you. If not, continue.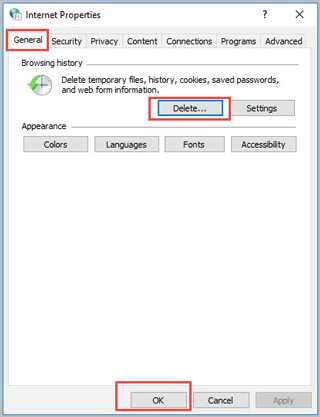 Step 4: Go back to Internet Properties window, now switch to Privacy tab and click on Settings button.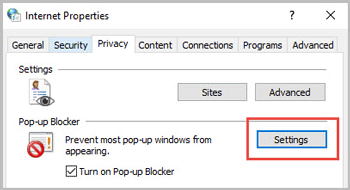 Step 5: In Pop-up Blocker Settings window, select Medium: Block most automatic pop-ups under the Blocking level section.
Step 6: Click on Advanced tab, scroll down and check the box of Show pictures. Alternatively, click on Restore advanced settings can achieve the same effect.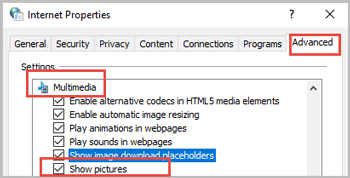 Workaround 2: Enable captcha to show by reinstalling Flash Player
Your captcha graphic image may show you a red cross if the Flash Player hasn't been installed or in low version because some of the websites using flash format to show captcha graphic image. Under this situation, locate the Flash Player official website, download and install the latest version application. If you are failed in updating, try to uninstall the old version before reinstalling the new version.
Workaround 3: Repair "Captcha graphic image not showing" through Registry
Once the above workarounds fall flat, this might be the automatic refresh of the system is missing.
Step 1: Use the Windows + R key combination to open Run dialog box. Input "regedit" and press Enter.
Step 2: Locate the following folders and open one by one:
HKEY_LOCAL_MACHINE\SOFTWARE\Microsoft\Internet Explorer\Security
Step 3: See if there exiting a key named BlockXBM or not. If not, right-click to create NewDWORD. Double-click and rename as BlockXBM set the Value data to 0.
Workaround 4: Register related dynamic chains to make captcha show up
Step 1: Press Windows + R key on the keyboard, type "regsvr32 pngfilt.dll" and hit Enter. Wait for a while it will register successfully.
Step 2: If the warming prompt shows you that the module "pngfilt.dll" was loaded but the entry-point DIIRegisterServer was not found, this file may have been damaged. You can go to another PC and navigate to WindowsSystem 32 > pngfilt.dll, copy it and paste to the same place in your computer. However, the system might stop the process, you can press Ctrl + Alt + Del to open the Task Manager and close all related procedure. Then go back to Step 1.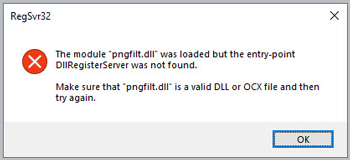 Workaround 5: Allow the popups while captcha not showing
If you use the third-party browser, the captcha graphic image might have been blocked by popups blocker. Therefore, you need to enable popups blocker in your browser. You can refer to this article for the full tutorial on how to block or allow pop-ups in your browser.
Related Articles: