How to Clear or Disable Google Chrome Cookies on Windows 10
Once you enter a website, it always creates cookies for your account automatically. Thus you can visit it without inputting your account and passwords for the second time. However, someone tends to keep things clear. So we are going to walk you through how to clear or disable Google Chrome cookies on Windows 10. Here is the detailed tutorial.
Part 1: Clear Google Chrome Cookies
Cookies, which are used to save request information for the server page from the client's browser, include user information and your site preference. Nevertheless, saving cookies is not always a good thing. You can clear Google Chrome cookies to get rid of the redundancy of the system.
Case 1: Clear all Google Chrome cookies
Step 1: Open your Chrome, tap vertical ellipsis menu button on the top-right corner and select Settings from the dropdown list.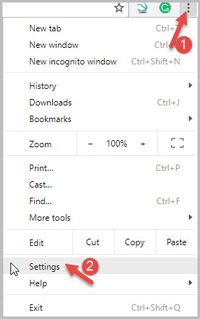 Step 2: Expand Advanced at the bottom of the page and scroll down. In the Privacy and security section, click on Clear browsing data.

Step 3: In the pop-up window, check Cookies and other site data. Then click the Down arrow and select the beginning of time to clear all cookies. Click on CLEAR BROWSING DATA button.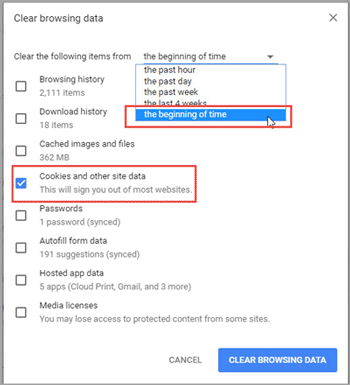 Case 2: Clear Chrome cookies of specific website
Step1: Click on More icon at the right of the address bar, select Settings from the list. Scroll down and click Content settings under Privacy and security.
Step 2: Input the website name on the horizontal line in "All cookies and site data" section. Then tap on the trash can icon to delete.

Part 2: Disable Google Chrome Cookies
If you are using a public computer, for instance in an internet bar, you might have to disable Google Chrome cookies to protect your own privacy. There are two ways provided in this part to disable Google Chrome cookies.
Note: Most sites that require you to sign in won't work if you block your cookies in Chrome.
Way 1: Disable Google Chrome cookies via built-in Settings
Step 1: At the top-right corner of Chrome, select Settings. Scroll down, tap on Advanced at the bottom of a page.
Step 2: Under "Privacy and security", click Content settings and then tap on Cookies. In the Cookies page, turn off the switch at the right of Allow sites to save and read cookie data to block Chrome cookies.

Way 2: Disable Google Chrome cookies through Control Panel
Step 1: Input "Control Panel" in the search bar on the taskbar, then press Enter to navigate to Control Panel.
Step 2: Click the Down arrow in the box behind View by, select Small icons from the options. Double click on Internet Options in the last column.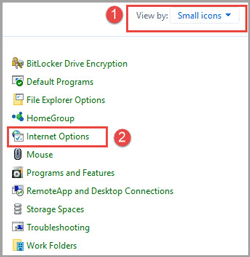 Step 3: Under Privacy tab, click on Sites. In the pop-up window, input your website under Address of website. When finished, tap on Block button to disable your Chrome cookies. Click OK to exit.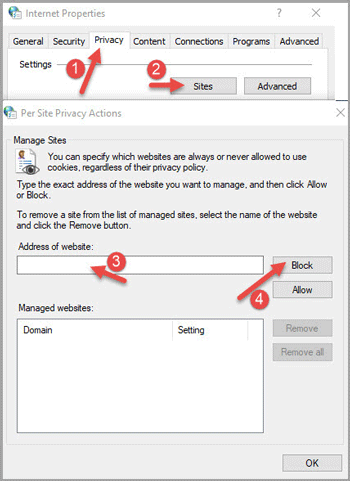 Related Articles: