Solved: Your Firefox Profile Cannot be Loaded on Windows 10
While you open Firefox, a prompt pop-up reminds you of "Your Firefox profile cannot be loaded. It may be missing or inaccessible", What would you do next? In this article, we will walk you through how to run it into normal in the following manners.
Tutorial to Fix Firefox Profile Missing Error
What is Mozilla Firefox profile?
In Mozilla Firefox, all of your personal information includes your bookmarks, history, passwords, toolbar settings, are saved in a file named profile. By default, the Firefox profile is separated from installation program. Whether you uninstall Firefox or virus aggressive Firefox browser, your private information will stay on your computer safely. Each time you launch Firefox, it always read the content of profile first.
Why can Firefox not load profile?
According to the error of the profile cannot be loaded, here are three reasons in total:
Firefox profile has been deleted
Firefox profile has been transferred
Firefox profile has been renamed
We provided different solution below according to different situation. Let's move on to learn the detail.
How to repair if the Firefox profile has been deleted
Way 1: Fix Firefox profile by creating a new profile
Step 1: Click Windows + R combination on the keyboard to open the Run window. Input "firefox.exe -P" and hit Enter.
Note: You can use "-P", "-p" or "-ProfileManager" in the command.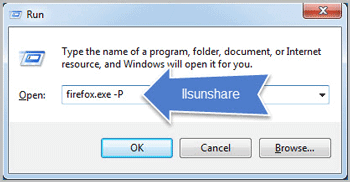 Step 2: Click on Create Profile, set a name you like and click on Start Firefox.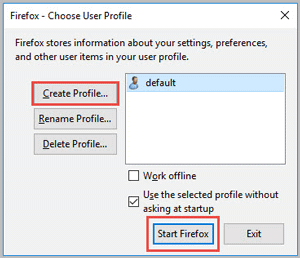 Note: You have to close the Firefox browser before opening Run dialog box.
Way 2: Repair the error by deleting profiles.ini file
If you can''t open Firefox Profile Manager in the way above, you can use this method to work it out.
Step 1: Click on Windows Start menu, input "%appdata%" in the Search box and Enter. You will be located in the directory of "C:\Users\(username)\AppData\Roaming".
Step 2: Navigate to Mozilla > Firefox folder, right-click on profiles file and Delete. Firefox will create a new file with the same name when you open it.
Tips: You can rename the profiles file instead of deleting it.

How to solve if the Firefox profiles have been transferred or renamed
If you know where the profile location is, move on to solve the issue easily.
1. Located the profile, move it back to the default directory: C:\Users\(Username)\AppData\Roaming\Mozilla\Firefox
2. Change its name back if you did.
Tips: You can refer to the Way 1 above to create a new profile for Firefox by using the Profile Manager.
Related Articles: