Fix: Chrome Sync Bookmarks Not Working
Google Chrome is a popular browser with a big market share. Most of people use Chrome in multiple devices and hence sync account data include bookmarks, extensions and settings are convenient to their work. However, many users reported that their Chrome sync bookmarks not working. This guide will provide you some workarounds to fix the issue.
Solutions on Chrome bookmarks not syncing:
Fix 1: Input Your Passphrase While Chrome Bookmarks Not Syncing
In order to prevent Google from reading your account data, you have set a passphrase to store and sync in Google's cloud. Whereas you hardly input the passphrase and have changed the account recently.So you can use the workaround we provide below to work it out.
Step 1: On your computer, open Google Chrome. Click on vertical ellipsis menu button on top-right, select Settings from the list.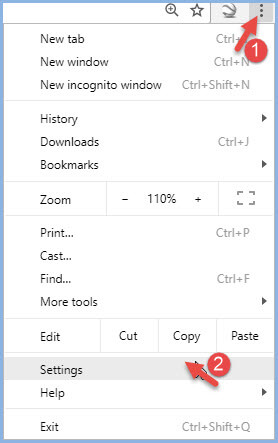 Step 2: Click on Sync under your account, then go to the Advanced sync settings page. You can enter the prior password if you see the prompt of "Your data was encrypted with your Google password". Otherwise, you have to enter your passphrase when it reminds you "Your data was encrypted with a sync passphrase".

Fix 2: Reset Passphrase While Chrome Bookmarks Not Syncing
If you can remember neither your old Google password nor passphrase, you can reset or delete your sync passphrase. In addition, disconnect all synced computer and devices at the same time.
Note: All data in your computer just as bookmarks, history and other settings are still available.
Step 1: Click on More at the top-right, choose Settings option. In the Settings search box, type Dashboard and Enter.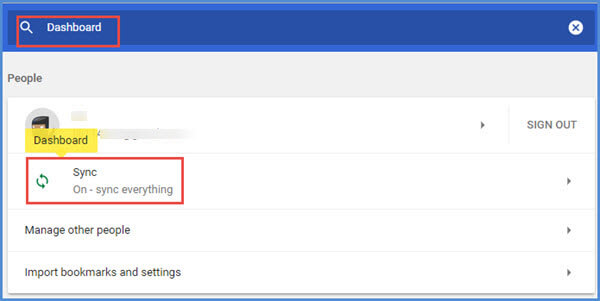 Step 2: Tap on Sync, then scroll down and Click on Manage synced data on Google Dashboard. At the bottom of page, click RESET SYNC. Sign back into Chrome and start syncing again.

Related Articles: