How to Import Chrome Bookmarks to IE/Firefox/Safari or Edge
For some reasons, you want to switch Chrome to another browser like Internet Explorer, Firefox, Safari or Microsoft Edge. If so, you probably want to keep your bookmarks. It seems like a massive hassle. Take it easy, the tutorial is fairly straight-forward and you just need several steps to finish it.
Import Chrome bookmarks to four common browsers:
Case 1: Import Chrome Bookmarks to Safari
Enable to quickly open the pages you frequently visit in Safari. To do this, you have to export Chrome bookmarks to an HTML file for the first thing, and then import Chrome bookmarks to Safari.
Step 1: Export Chrome bookmarks to an HTML file
Open your Google Chrome browser. Click "More" at the top-right corner of the page then choose the Bookmarks Manager option. Expand Organize and select Export bookmarks to HTML file. Then you can tape on Save to download the HTML file to the desktop.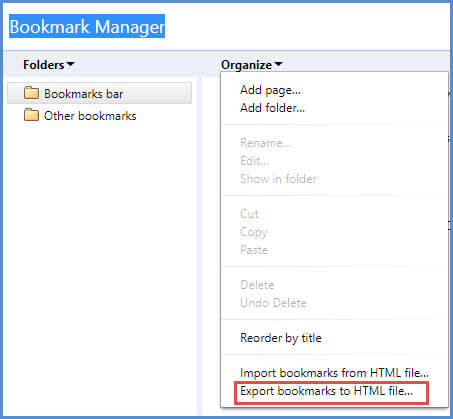 Note: In this step you can easily use the shortcut "CTRL+SHIFT+O" to reach Bookmark Manager page.
Step 2: Import Chrome HTML file to Safari
At the top-left corner, click File and choose Import Bookmarks option. You will be guided to open an HTML file to import. Locate and select your bookmarks file. Tap on Open button, the Chrome bookmarks will be automatically imported to Safari.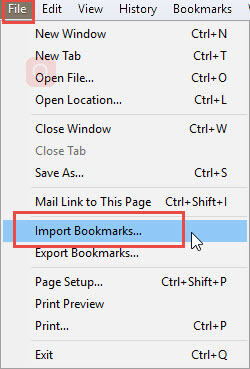 Case 2: Import Chrome Bookmarks to Firefox
Mozilla's Firefox offers user a variety of powerful functions, making it one of the population browser options. Whether you are a new user or want to use it as the secondary browser, you can import Chrome bookmarks to Firefox in just a few steps.
Step 1: Launch Firefox, click the Bookmarks button and select show all bookmarks option.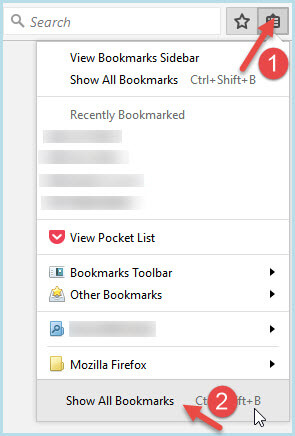 Step 2: In the library window, tap on Import and Backup tab and select Import Data from Another Browser. Next you can follow the Import Wizard to select bookmarks as the item you want to import.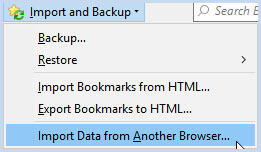 Case 3: Import Chrome Bookmarks to Internet Explorer
Microsoft Internet Explorer is a browser has been some tough time, and it turns to be faster and securer over the decades. If you hope to make the switch to Internet Explorer, you're required to bring your bookmarks with you. Here's the tutorial.
Step 1: Open your Internet Explorer, click on File in the menu bar and choose Import and Export option from the dropdown list.

Note: If the menu bar is hidden, you can right click at the top of window and choose Menu bar to continue.
Step 2: In the pop-up window, click on Import from another browser and Next. Then choose Chrome to import Chrome bookmarks.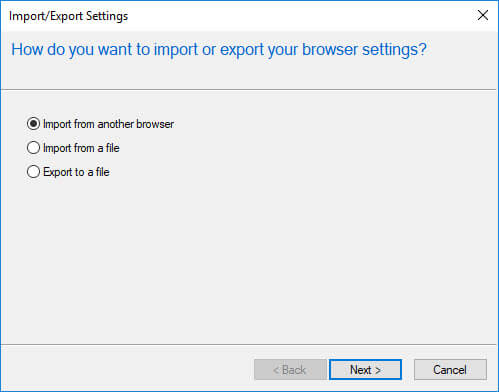 Case 4: Import Chrome Bookmarks to Microsoft Edge
If you are intending to stop using Chrome and ditch it, the data include bookmarks must have imported into another browser for the first thing. You can easily export bookmarks from Google Chrome to Firefox by performing the following easy steps:
Step 1: Click "More" button in the upper-right corner and select Settings as the image below.Then a little window will pop up in the right panel.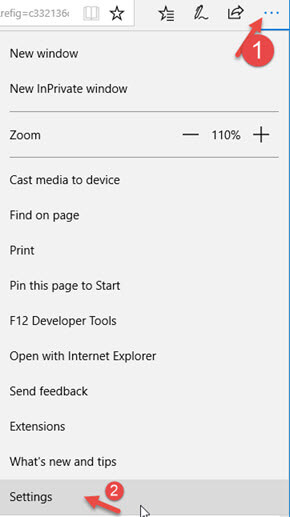 Step 2: Click Import from another browser, choose Chrome and click Import button in the Import Infor from another browser page. It will take a couple seconds, and then the "All done" prompt will show to you under Import. In this way you can easily import your bookmarks to Microsoft Edge.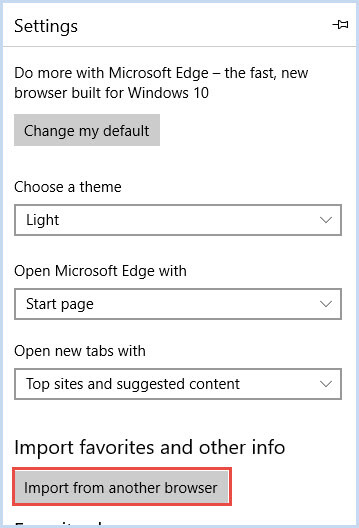 Related Articles: