My Google Chrome Won't Open on Windows 10, How to Repair
You may have suffered from such problem all of a sudden: your Google Chrome won't open on Windows 10 after you double-click on its icon. This is a very frustrating thing. However, you can't uninstall it at once, because Chrome won't be reinstalled back to your computer. In such case, we provide some feasible methods for you in the following.
Note: If you, unfortunately, uninstall Google, before reinstalling you can refer to how to remove Google Chrome completely.
Methods to Repair Google Chrome not Opening on Windows 10
Method 1: Restarting your computer to repair Google Chrome on Windows 10
Step 1: Restart your computer and make sure all your files have been saved.
Step 2: If your Google Chrome launches in this way, press Ctrl + Alt + Del to open Task Manager. Click on Details tab and right click on the process of Google Chrome and select End process tree. Launch again after that you have exited every instance of Chrome.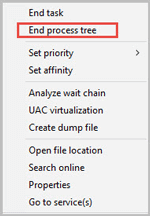 Method 2: Uninstall unidentifiable programs to repair Google Chrome
For some malicious programs may give rise to conflicts in Chrome. Go to the Control Panel and select Programs > Programs and Features. Choose the unidentifiable programs, right-click on it and select uninstall. If you don't know which one to uninstall, you can also try Chrome Cleanup Tool to clean up automatically.

Method 3: Fix Chrome by adding exclusion from Antivirus or Firewall Settings
Sometimes your computer antivirus or firewall temporarily closed it, so you have to add an exclusion from the software. Check while the firewall is off, your Google Chrome can work normally or not, you can move on in this section.
Step 1: To open Antivirus in Windows 10, you can navigate to Settings > Update & security >Windows Defender > Open Windows Defender Security Center.
Step 2: In the Windows Defender Security Center window, tap on three parallel dashes at the top-right corner. Select "Virus & threat protection" from the left panel and click on "Virus & threat protection settings" in the right panel.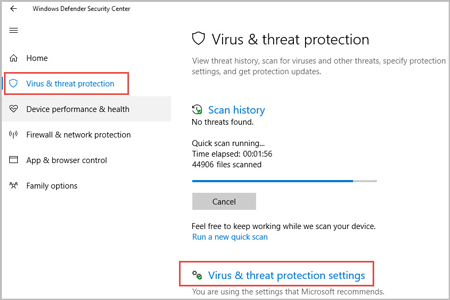 Step 3: Scroll down and click Add or remove exclusions under Exclusions. Tap on the plus sign and select Files option, click on Google Chrome to finish.
Step 4: Input "Control Panel" in the Windows search box at the taskbar and hit Enter. Click the Down arrow behind View by and select "Small icons" and select Windows Firewall.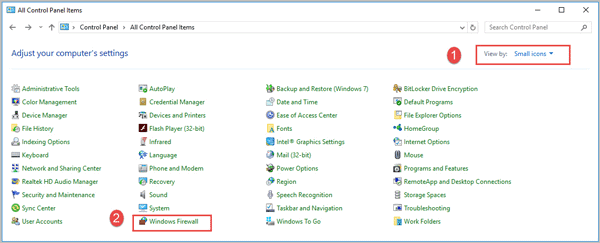 Step 5: In the right panel, click on "Allow an app or feature through Windows Firewall" and tick the box in front of Google Chrome.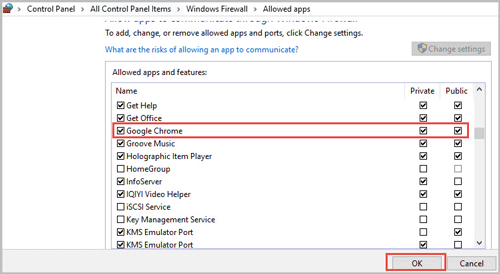 Method 4: Changing entry permission to fix Google Chrome
Step 1: Right click on Chrome shortcut from desktop, select "Open file location".
Step 2: Right-click on Chrome application, select Send to > Desktop to create a new shortcut.
Step 3: Now right click on new Chrome shortcut then choose Properties. In the Google Chrome Properties dialog, go to Security tab and tap on Advanced.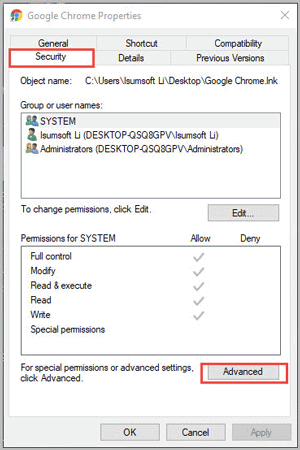 Step 4: When the "Advanced Security Settings for Google Chrome" window pop up, tap Change button.
Step 5: Type your username in the box under Enter the object name to select, click on Check Names > OK button.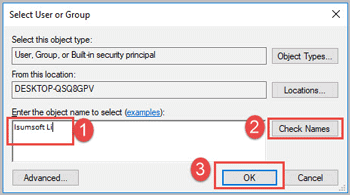 Step 6: While you have done the operation above, it will automatically return to the window in step 4. Here you need to click on Effective Access tab and tap on Select a user.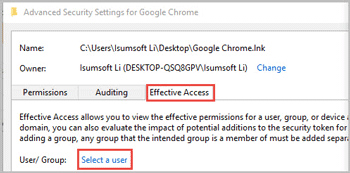 Step 7: To do the same as step 5, hit the OK button until exit all windows. Thus you have saved all your changed above.
Related Articles: