Lost Administrator Rights in Windows | How to Get Back
It would be a panic if you lost administrator rights (admin privileges) in Windows 10/8.1/8/7 computer. Because if there is no administrator rights, that means you cannot do something any longer.
1. Cannot update Windows system.
2. Cannot install or uninstall programs.
3. Cannot run program, such as command prompt as administrator.
…
So you should know how important admin right it is for Windows computer. But what can you do to get back lost admin privileges in Windows 7/8/8.1/10? Here in this article, two easy ways will be told to help you gain admin rights to access computer.
Way 1: Sign in Windows 7/8/10 computer with built-in administrator
Before you decide to login computer with built-in administrator, you should have enabled built-in administrator, because it is created and disabled by default during system installation.
Once it is enabled, restart your Windows computer and select Administrator on login screen. Click Sign in without typing any password. From then on, you would get administrative privileges to computer.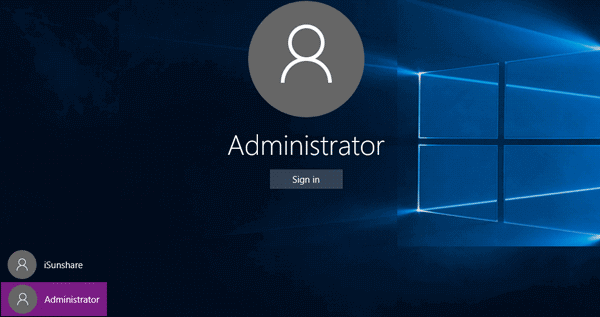 Tips: While your computer is locked, whether you could enable built-in administrator? If you have no idea, you could follow the article about how to enable built-in administrator when Windows 10 locked out. Or directly try easier Way 2 to gain admin rights.
Way 2: Remove admin password or create new admin account
If it is administrator password forgot that lead to admin rights loss in computer, it would be easier to regain your admin privileges. By removing forgotten administrator password, or creating new administrator, you would be able to login Windows 7/8/10 computer again with old or new administrator, and have admin rights to run any programs in computer.
To do this, actually you just need powerful third-party software, iSunshare Windows Password Genius Advanced, which is the best utility that can work instead of built-in administrator when you want to get admin privileges without password.
Step 1: Burn iSunshare program into a bootable USB flash drive.
Find an accessible computer to download, install and run iSunshare Windows Password Genius Advanced. And plug bootable USB flash drive into computer. Then select it from drop-down list and click Begin burning button to burn iSunshare program into USB flash drive.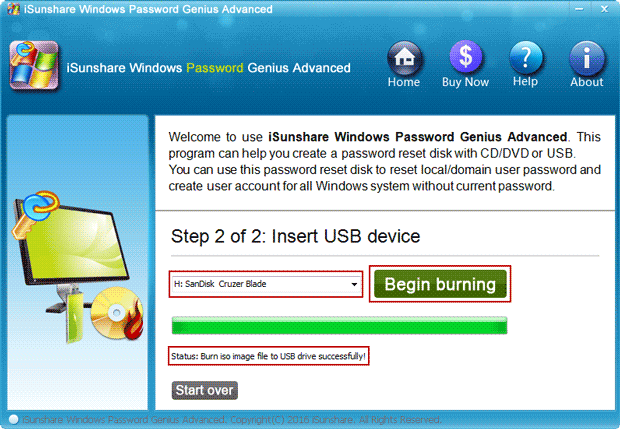 Step 2: Remove Windows admin password or add new admin account.
After successfully burning, just exit USB from available computer and insert it into your Windows 7/8/10 computer. Now please start your computer and let it boot from USB flash drive. So that Windows Password Genius Advanced would run on your computer.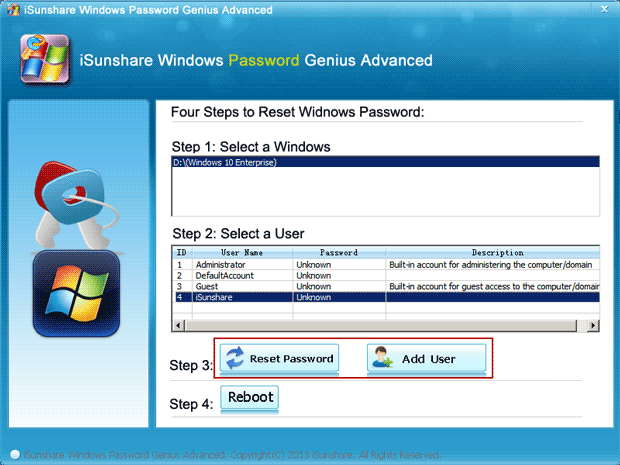 On Windows Password Genius Advanced, you would see two options that you can choose, Reset Password and Add User.
2-1 Remove Windows forgotten or lost admin password.
With option "Reset Password", you would be able to remove forgotten or lost admin password from locked Windows 7/8/10 computer.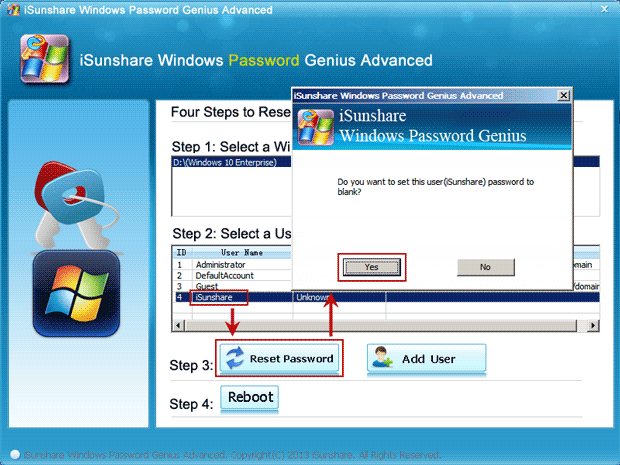 What you need to do is just to select admin account, tap on Reset Password button, and click Yes button on pop-up dialog. Then your lost admin password would be removed instantly.
2-2 Add or create new administrator to get admin rights.
With option "Add User" in iSunshare program, you would find new administrator could be created more easily than any other methods when you are locked out of computer.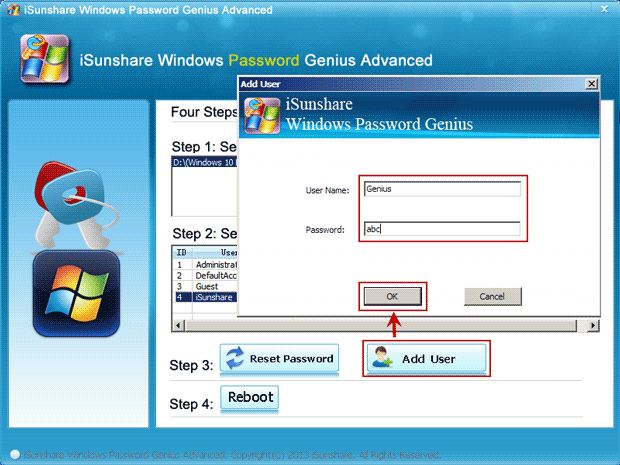 Just click Add User button, and enter admin account name and password in following appearing dialog. Click OK and a new admin account is created successfully.
Step 3: Log into Windows 7/8/10 computer with old or new administrator.
Click "Reboot" button and exit USB flash drive to restart computer. Then on login screen, you can select the administrator you have removed password, or new admin account to sign in computer. From now on, you have regained admin rights to your computer.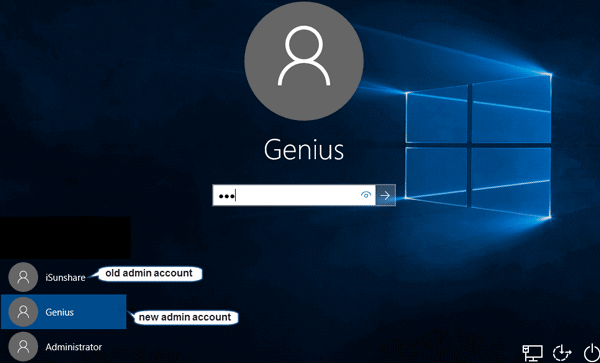 So you could find Windows Password Genius Advanced is so easy tool that could remove password and add user but it doesn't require any technical knowlege.
Related Articles: