Lost Administrator Rights in Windows | How to Get Back
It would be a panic if you lost administrator rights (admin privileges) in Windows 10/8.1/8/7 computer. Because if there is no administrator privileges, that means you cannot do something any longer.
1. Cannot update Windows system.
2. Cannot install or uninstall programs.
3. Cannot run program, such as command prompt as administrator.
…
So you can see how important the admin right it is for Windows computer. And it is necessary to get Windows administrator privileges after lost if you want to run computer better. Here two options are provided for you to choose for different reasons, administrator password forgot or other reasons.
Option 1: Get Windows administrator privileges by removing password
If Windows administrator privileges is lost because of administrator password forgot, there would be a lot of means to get back. And two among them work the same for all Windows computers.
Method 1: Password reset disk
Password reset disk is a disc that you created before password forgot for any user account to reset or remove Windows password after forgot. So if you have prepared such a disk for an administrator account, please plug it into computer you want to get back Windows administrator privileges.
1. Try to sign in Windows computer with the administrator and a wrong password.
2. While "The password is incorrect" appears, click OK and then "Reset password" link.
3. Then pop-up Password Reset Wizard will guide you to reset or remove Windows administrator password.
4. Exit the disk and sign in Windows computer with administrator again. You will get back Windows admin rights.
So easy it is to get Windows administrator privileges back. But unfortunately not everyone has been aware of the importance of password reset disk before Windows administrator password forgot. Therefore, usually we need other methods, such as Windows password recovery tool in most cases.
Method 2: iSunshare Windows password recovery tool
Please take iSunshare Windows Password Genius instead to remove Windows administrator password while you have no password reset disk for any administrator accounts. It can be burned into a USB or CD drive and then you could start your Windows computer from it to run the powerful Windows password recovery tool, Windows Password Genius even locked out of computer.
Step 1: Burn iSunshare program into a bootable USB flash drive.
Find an accessible computer to download, install and run iSunshare Windows Password Genius Advanced. And plug bootable USB flash drive into computer. Then select it from drop-down list and click Begin burning button to burn iSunshare program into USB flash drive.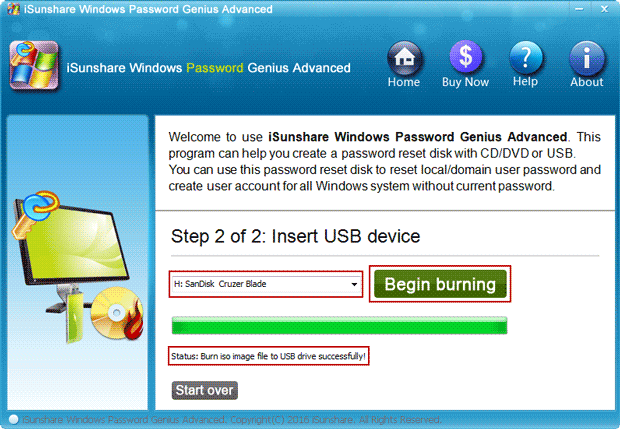 Step 2: Start Windows computer from USB drive and remove Windows administrator password.
After successfully burning, just exit USB from available computer and insert it into your Windows computer. Now please start your computer and let it boot from USB flash drive. So that Windows Password Genius Advanced would run on your computer.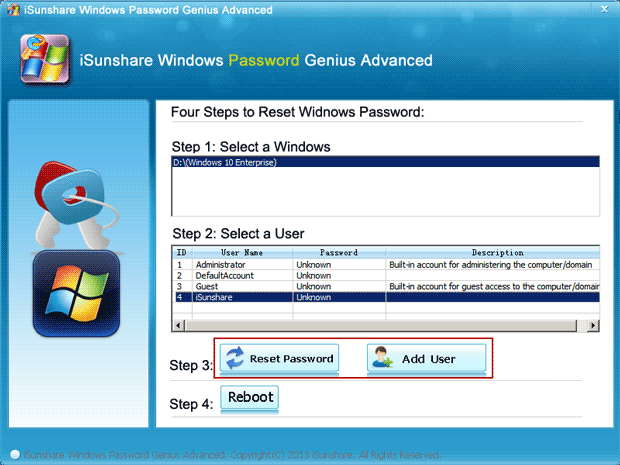 With option "Reset Password", you would be able to remove forgotten Windows administrator password from locked Windows computer. What you need to do is just to select an admin account, tap on Reset Password button, and click Yes button on pop-up dialog. Then forgotten administrator password would be removed instantly.
Remember to reboot computer without USB disk and sign in with administrator account you just removed password. Then you will really get the administrative privileges to use your computer.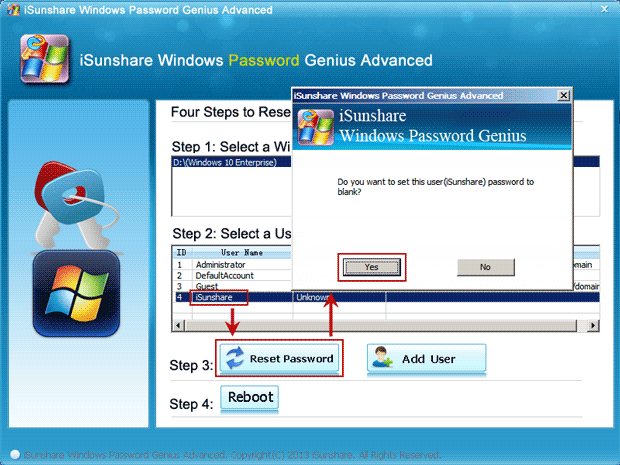 Option 2: Get Windows admin rights by adding new admin account
If your Windows admin rights is lost because of other reasons, adding a new admin account will easily help you get back Windows admin rights to computer. And you see the Windows password recovery tool used above also provides an option "Add User". So why not make full use of it to create new user with administrative privileges?
Just click Add User button, and enter a user name and password in pop-up box. Click OK and a new administrator account is created and shown in user list.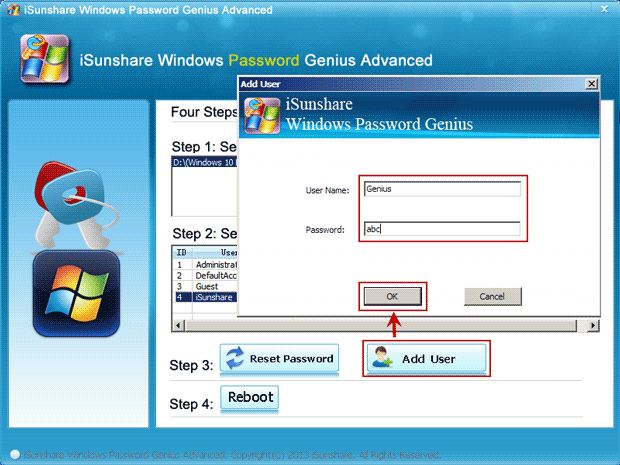 Now in order to sign in Windows computer with this new administrator account, please click "Reboot" button and exit USB flash drive to restart computer. Then select the new administrator on login screen to access computer. From then on, Windows admin rights come back.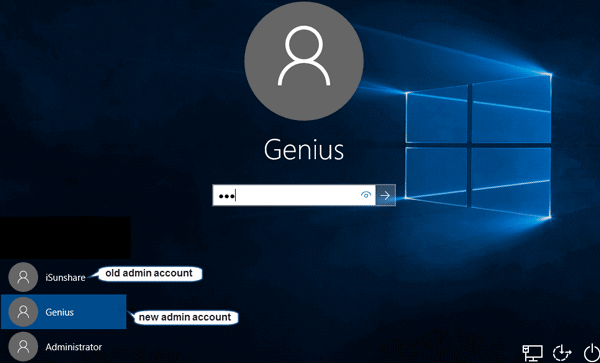 Conclusion:
If you have no preparation when you find Windows administrator privileges lost, it is worth trying iSunshare Windows Password Genius, the efficient tool to remove Windows password and create new user for Windows 10/8/7/vista/xp and Windows server 2016/2012/2008/2003/2000 computer.
Related Articles: