5 Ways to Remove Windows Password If Forgotten
Windows password is like the key to access computer. It is usually created to protect the data and information saved on computer. If you want to sign in computer and do what you want, you should know the password, especially administrator account password. But the problem "Windows password forgot" happens all the time, which leads to that even the computer owners will lose access to the computer and greatly affects the use of computers.
So if you forgot Windows password, do you know how to remove or recover it? Here 5 common ways will help you to remove Windows password if forgotten.
Way 1: Guess Windows Password Based on Password Hint
It is well to be reminded that now only in Windows 7/8/10 computer, can password hint remind you of Windows password. So why not just spend a few seconds to guess out the Windows forgotten password based on password hint when Windows password forgot and password hint appears on Windows login screen?
How to guess Windows forgotten password according to password hint?
Password probably has something to do with a loved one's birthday, a pet's name, a telephone number, etc. And password hint is intended to show some secret information that only you can see. Hence, according to the relationship between them, it would be possible to find out Windows forgotten password. But there is also high possibility that you can't find it out after wasting several hours. So it is just a try but not the best way for you to recover or remove Windows password if forgot.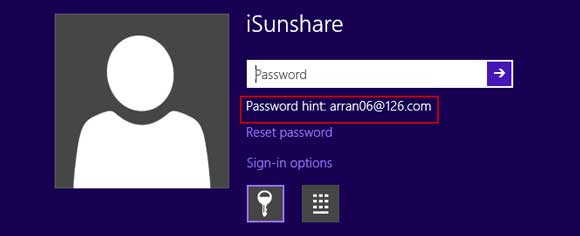 Way 2: Remove Windows Forgotten Password with Another Administrator
If you still have other admin accounts and password, you can login computer with it and then remove Windows forgotten password in Control Panel or with Command Prompt.
Step 1: On Windows sign-in screen, change login user and access Windows computer with it.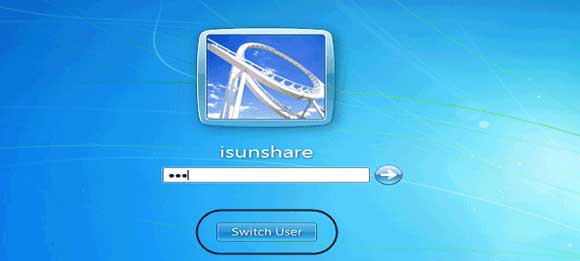 Step 2: Remove Windows password with administrator.
Remove Windows password in Control Panel (Windows 7):
1. Go to Control Panel - User Accounts and Family Safety - User Account - Manager another account. .
2. Select user account and choose "Remove the password" on the left side.
3. Click "Remove Password" to confirm Windows user password remove. Then you would go back to the user account screen.
Remove Windows password with command:
1. Click Start and type "cmd" in search box.
2. Right-click cmd.exe to run it as administrator.
3. Type command "net user <user name> *" and press Enter twice to remove user password.
Windows password will be removed if you don't set any new password for that user in net user command.
Way 3: Remove Windows Forgotten Password by Password Reset with Disk
If you have created a Windows password reset disk previously, the disk would be the easiest and fastest way to remove forgotten Windows password.
Click "Reset password" link on login screen to come up Password Reset Wizard after you type a wrong password. Then follow the wizard and introductions to do. For example, insert the usb or cd password reset disk into your computer, select the disk you plug and don't set any new password for this user. At last, you will be prompted Windows user password has been removed successfully. Just exit the disk and sign in computer without password.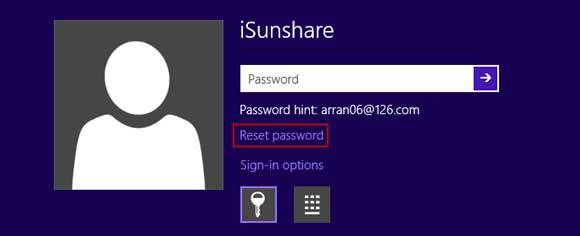 Way 4: Remove Windows Password by Windows Password Genius
If Windows password cannot be removed after you tried above ways, the third-party tool, iSunshare Windows Password Genius would be your best choice to remove Windows password easily at any time.
It has provided four editions, Standard, Professional, Advanced and Raid for different Windows systems and computers. So choose one appropriate according to your computer. Generally, if your computer is raid server, you need to choose Windows Password Genius Raid, and other computers just need Windows Password Genius Advanced. No matter which one you choose, all the operations are similar, please follow the steps to do.
Step 1: Create a bootable USB for Windows password reset with Windows Password Genius.
Step 2: Set your computer boot from the bootable USB or CD drive you have successfully burned.
Step 3: Click on "Reset Password" button to remove Windows password after you choose a user account.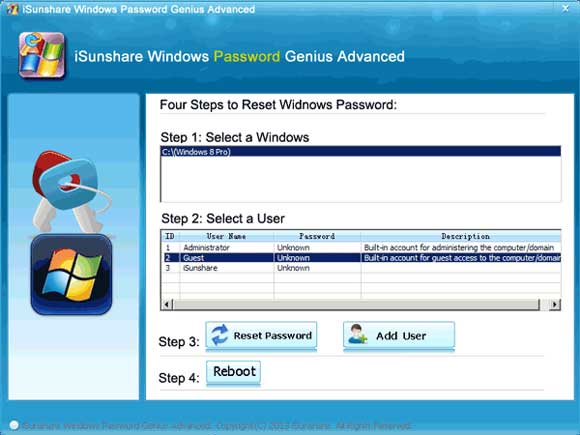 More details about how to use Windows Password Genius, please follow its Windows Password Genius user guide to do. Not only you can remove Windows password, but also you can create new admin account with it.
Way 5: Clean Install Windows System to Remove All Windows Passwords
Clean install Windows will erase everything on your computer, surely including forgotten Windows password. So if you just got the new computer and locked out of computer after forgot password, it is worth trying. Plug the install disk into your computer, and boot computer from disc to reinstall Windows system. Undoubtedly, it will seems a little difficult to do than Windows Password Genius and will cost you lots of time.
Related Articles: