What Can We Do with Windows Password Recovery Tool
As is known, general Windows password recovery tool could reset Windows password without accessing computer. But besides this, what else can it do for us? And how does it do that? Follow this passage to get detailed information.
iSunshare Windows Password Genius is an all-in-one Windows password recovery tool for all Windows operating systems, not only recovering, resetting, removing user accounts password, but also creating new accounts.
How to remove, reset, recover Windows password?
Step 1: Create Windows password reset disk with Windows Password Genius
Download and install iSunshare Windows password recovery tool on another accessible computer. And create a Windows password reset disk. There are two ways to create it.
Way 1: Create one by USB device with Windows Password Genius.
After successfully installing Windows Password Genius, run it and choose USB device.
Insert a writable USB flash drive. Select the USB drive which you inserted. Click Begin burning.
After successfully burning, use this password recovery disk to boot the locked computer, and easily recover windows password.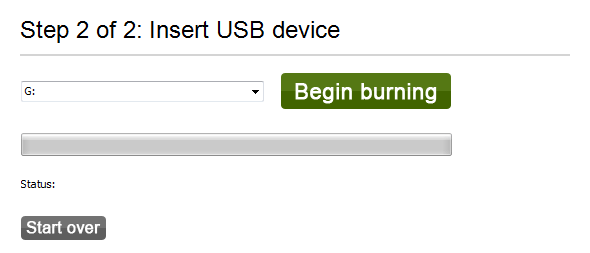 Way 2:Create one by CD/DVD-ROM with Windows Password Genius.
Operation process is the same as the above. Just take CD/DVD-ROM intead of writable USB flash drive.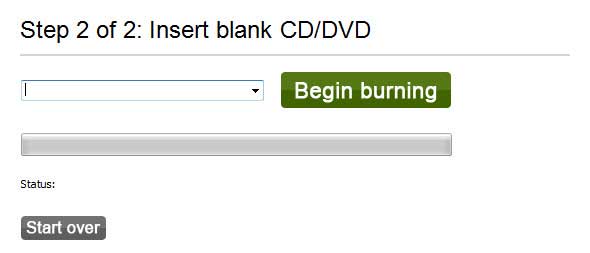 Step 2: Boot Windows computer from USB or CD reset disk.
Insert the Windows password reset disk into your locked computer and set the computer to boot from CD/DVD-ROM or USB drive.
Step 3: Reset password to be blank or create new user accounts.
Select your Windows operating system type
Select a user from list which you want to reset its password
Click Reset Password button. The program will prompt you that the password will be reset to be blank
Quit USB device, CD/DVD and choose "Reboot" to exit after resetting password successfully

How to create new account on locked Windows computer?
In the process of resetting Windows user password, there is another choice "Add User" you can choose. Click it and type in account name and password. Besides this, you can also create new user account through Control Panel after Windows computer access.
Addtional Information: How to create new account and new password in Control Panel
Remove, Reset or Recover Password: Select "Start" > "Control Panel" > "User Accounts and Family Safety" > User Account > Change your Windows password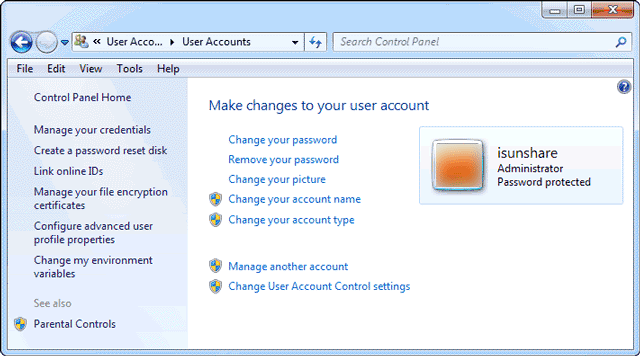 Create a new account: Select "Start" > "Control panel" > "User Accounts and Family Safety" > "Use Accounts" > "Add or remove user accounts"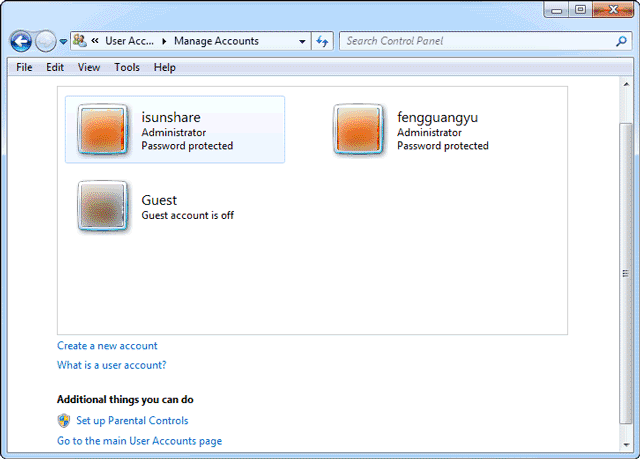 Related Links: